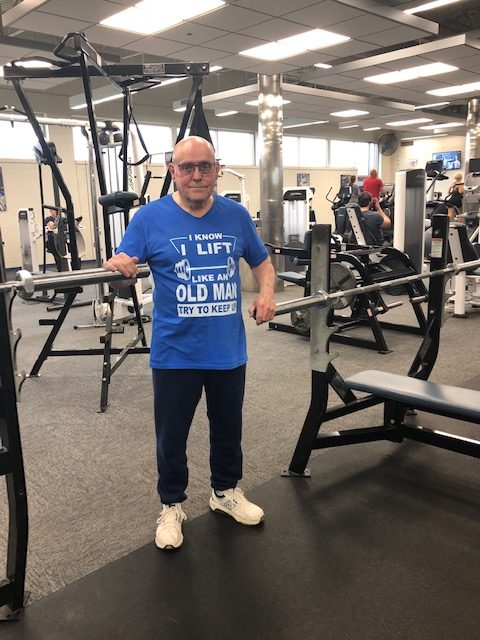 Jerry Wells has been a familiar face at both the Kettering Recreation Complex and the Kettering Fitness and Wellness Center for over 10 years. While you may find him more at the KRC, working out five days a week makes him want a little variety, so you'll occasionally spot him on the other side of town as well.
Jerry started working out in 1959 with his dad and grandfather in Kettering, where he's lived his entire life, and he hasn't stopped since. Jerry served our country in the Army from 1964-66, and still competed in his first powerlifting competition in 1964. Since then, he's received 85 trophies, medals and plaques, as well as being crowned first place in a whopping 20 powerlifting meets! This doesn't end his list of achievements though – he is also the proud holder of two world records, as well as 14 state records, and three national ones!
Jerry's world records are impressive with a bench press of 220 lbs, which was broken by 44 lbs. In addition to his many competitions as a participant, he has also judged powerlifting and Olympic weightlifting competitions for 25 years. He loves learning more about working out, and is constantly reading educational books on lifting and fitness.
Lastly, age certainly has not slowed Jerry down in the slightest; despite being 76 years old, Jerry is considering competing in Springfield this June.
And finally, a fun fact: if you're from Findlay, you might have heard of Jerry Wells Day, celebrated on May 8!
Our Fitness & Wellness Supervisor, Lindsey Curry, sat down with Jerry recently to learn all about his workout routine. Here are some words of wisdom Jerry had to pass on:
Any advice for others thinking about working out?
Just do it. Even if it's just a walk. Start slow and build yourself up. Weights are important to build strength, which is better than just doing cardio. It is beneficial to keep a log of what you are doing to track progress. Don't be afraid to ask for help or ask someone to show you how to do different exercises. If you are an older individual, take your time, no need to lift heavy weights.
What motivates you to keep lifting weights?
I like staying in shape and keeping myself strong.
Thinking about starting a new fitness program? Learn how we can help.
*Please consult a doctor before beginning any new fitness program.