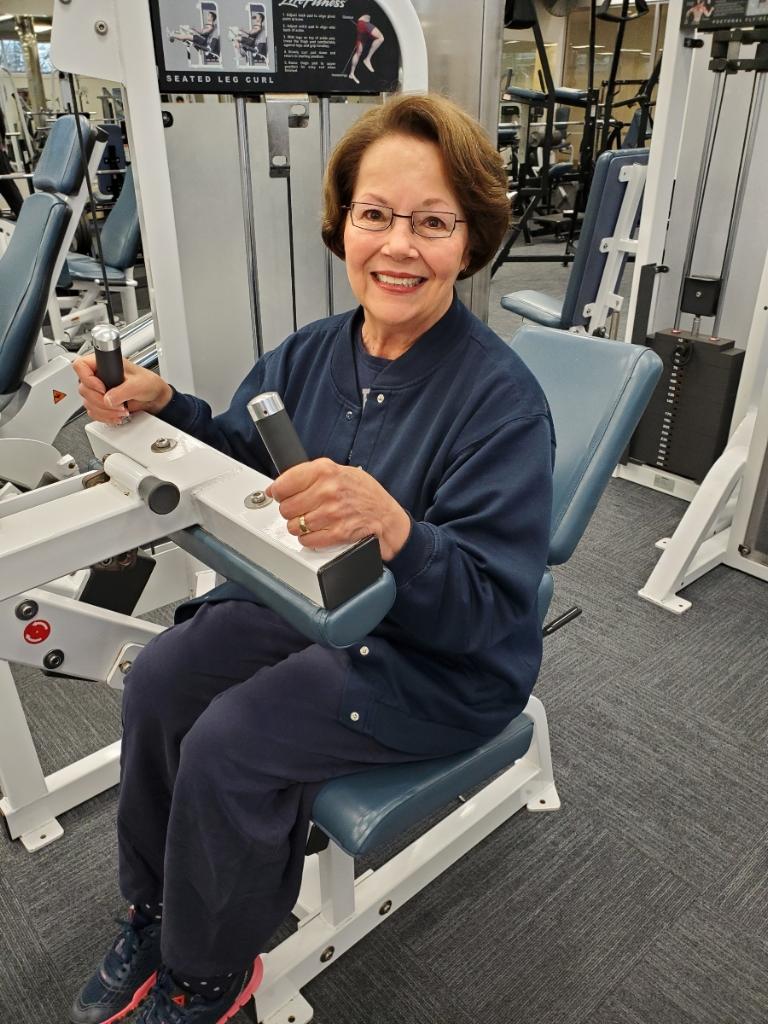 Happy Friday! Today's featured fitness patron is Leigh Turben, who made exercise a priority after her retirement. She credits becoming stronger and healthier at the KFWC with helping her overcome kidney cancer. Leigh has been cancer-free for 10 years. We're so glad she's chosen to work out with us!
Tell us about yourself and how long you have been a member of the Kettering Fitness and Wellness Center.
I am a retired corporate banker, and I have been a member of KFWC in earnest for 11 years. I tried to make time for exercise when I was working with little success, so when I retired, I made a promise to myself that I would make exercise a priority…and I did. On average, I go to the gym 4-6 times a week, depending on what I have going on. I should tell you, I'm not one of those people who thrive on exercise, in fact, quite the opposite. I would much rather be home in my comfy chair drinking coffee, but I realize the benefits of a regular exercise program.
What personal obstacles have you overcome and how did our fitness facilities help you through?
One year after retiring, I was diagnosed with kidney cancer. Mind you, I had been exercising for a year now on a regular basis, and considered myself to be in the best shape of my life. I asked my doctor to check the name on the CT scan, because there HAD to be a mistake. There wasn't; they discovered a cancer that I had acquired earlier in my life. Shortly after, I made an appointment at the Cleveland Clinic to begin my cancer journey. After major surgery, I was determined to regain my health. Following months of physical therapy, I returned to KFWC to start a new exercise program. I had read that exercise also helps to prevent cancer from reoccurring.  That was 10 years ago, and I have been cancer-free ever since!
Do you have any personal health and fitness goals, won a competition, etc.?
When I first started exercising, I tried to increase the resistance of my weights on a regular basis, but now my main goal is "to maintain."  At each workout, ½ hour of light-weight strength training keeps my muscles strong enough so that I can enjoy all my activities, and ½ hour of light cardio keeps my knees moving. Just this summer, my husband and I went to France, and while touring through Paris, often we would push 20,000 steps a day. That's why I go to the gym!
Is there anything else you would like to add?
It's never too early or too late to start an exercise program. Find what works for you and stick with it.  You will be happy you did!