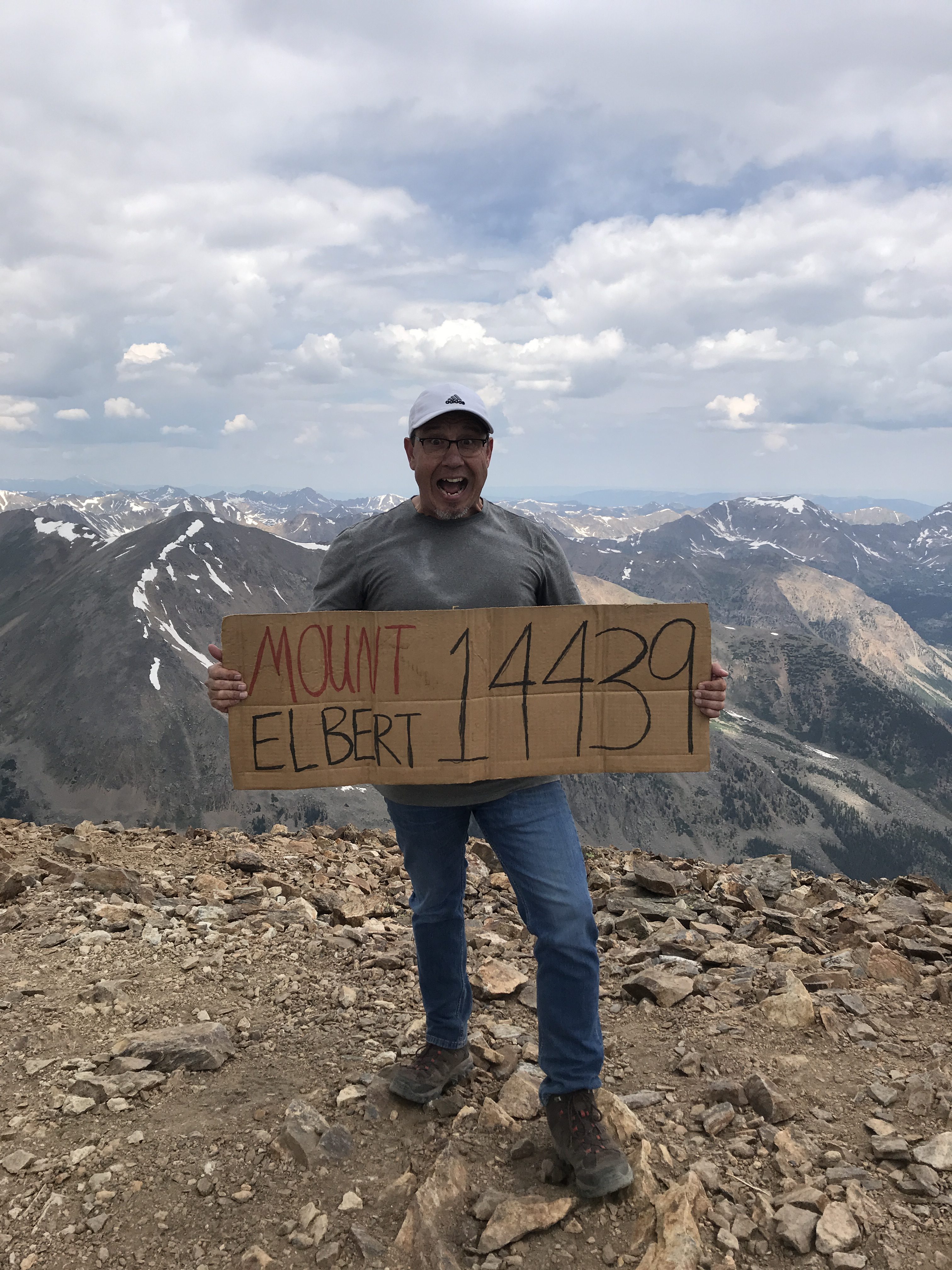 Mark Eggenschwiller's fitness goal was a tall order – literally! He recently completed a summit climb of Mt. Elbert, the tallest peak in the Colorado Rocky Mountains. Its elevation is approximately 14, 439 feet! With unpredictable weather and thin air at the top, this mountain presents a serious challenge to climbers.
"Elbert was the greatest physical challenge I have ever conquered," said Mark, a veteran of half marathons, Tough Mudder competitions and Spartan races. He completed all his training for both the Mt. Elbert climb and his other endurance events at the Kettering Recreation Complex.
Prior to climbing Mt. Elbert, Mark trained for approximately four months at KRC. "I utilized a combination of cardio and weight training. Cardio was every Saturday and started out at about an hour and progressively worked into a three hour workout over the course of four months," he said. "I was on stair climbers, elliptical, treadmills at full incline, and bicycle machines for about half an hour each. Weight training during the week was full body, making sure to focus on lower body and core. I really benefited from all the different ways I could isolate muscle groups."
In addition to prepping for his summit climb, Mark enjoyed the atmosphere at the fitness center, too. "The other members at the KRC were also just a great bunch of people. I have made several friends since I began my membership and wouldn't hesitate to recommend KRC to anyone," he said.
Here's an inspiring story from his time on Mt. Elbert – thanks for sharing this with us, Mark, and congratulations on your achievement!
"When I got to the summit after a seven-hour ascent, I met another couple of climbers. They were a man and his 12-year-old son.  They began their descent about 40 minutes ahead of me, and when I started down they were probably already 500 yards down a pretty steep slope. As I began what became my five-hour descent, I noticed the son moving back up the slope. When we met a little while later, I asked him what was going on.  He said, 'I forgot something.' I thought it must have been an expensive piece of climbing gear or something they really needed to get back down the mountain. When I reached Dad, I asked him about the item.  He told me this:
'When that boy took his first two steps, we were on the patio in the backyard. He went out, picked up a small stone, and brought it back and gave it to me. Today, he is a world-class gymnast and he has climbed mountains all over the U.S. Whenever he summits, he gets a rock from the peak, and brings it back to me. He forgot to pick it up this time, and so, true to his word, he is heading back up to get the stone.'
I was so impressed by this young man's commitment and honor. I began to wish that I had picked up a stone on the summit as well. But then something came to mind that inspired me to carry the stone that I have in my pocket every day, and the team at the KRC will always be part of that story. When I got to the end of the trailhead and had finished my journey, I stooped over and picked up a small, insignificant stone. It always reminds me about two things:  1 -Embrace the entire journey, and 2 -finish well."
____________________________________________________
Need help reaching your fitness goal? No fitness journey is too large or too small for our certified staff! Visit our Fitness page to get inspired.