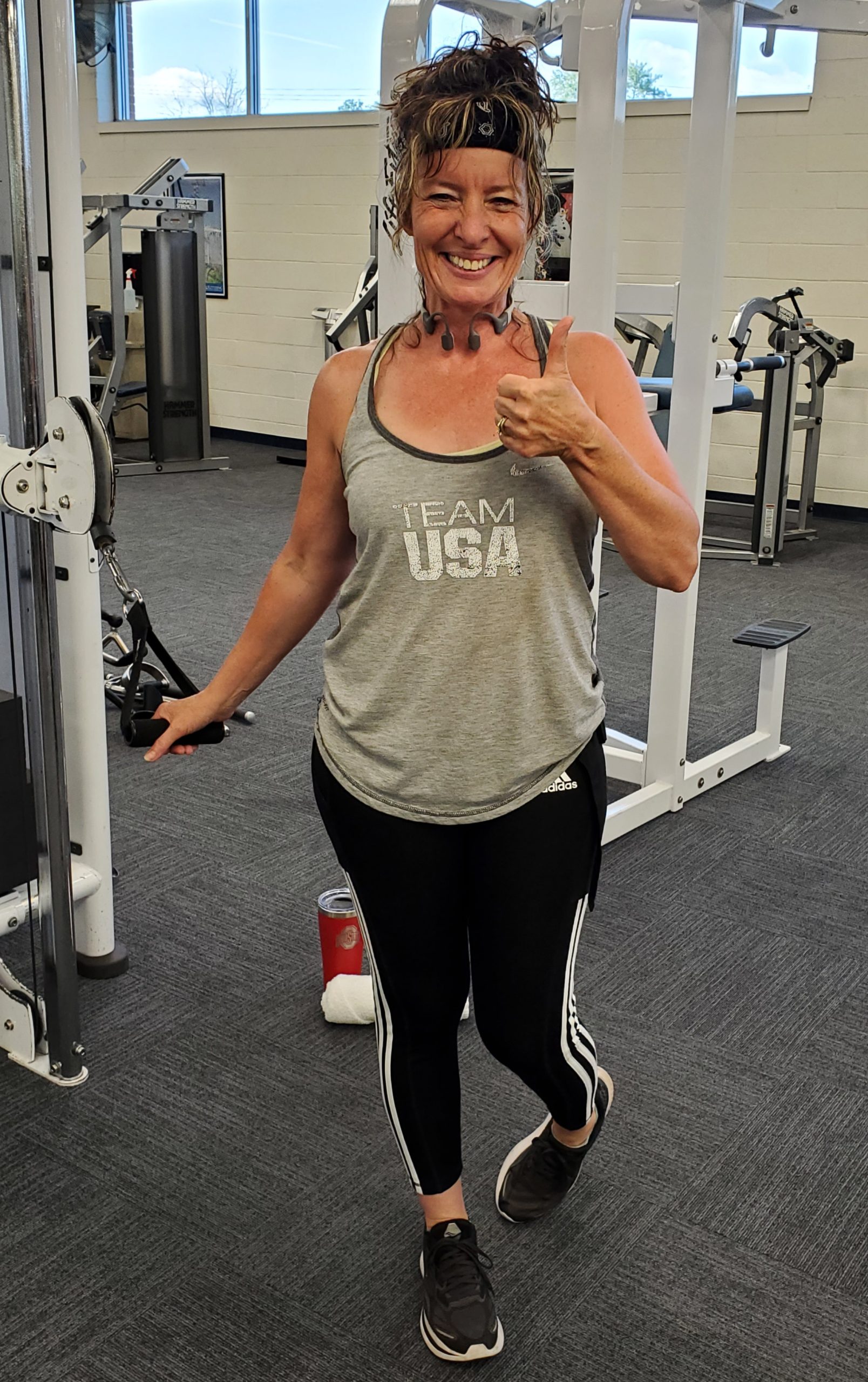 Happy Friday! Today's featured fitness patron is Sandy Angelopoulos, who has been a member of the Kettering Fitness & Wellness Center for over 10 years! Recently, her workouts have helped her overcome injuries resulting from a car accident last year. Congratulations on all your progress – we're cheering for you, Sandy!
Tell us about yourself and how long you have been a member of the Kettering Fitness and Wellness Center.
I am a business owner with my husband. We have three adult children and live in Kettering. We have been members of the Kettering Fitness and Wellness Center for over ten years. I competed in a Triathlon two years ago and love run, bike and swim. I have loved competition my entire life!
What personal obstacles have you overcome and how did our fitness facilities help you through?
In July of 2022, I was jogging, and a car ran a stop sign and hit me. The impact of the fall caused me to have three hip fractures and torn shoulder muscles. I did rehab 4-5 days a week at the Kettering Recreation Complex. The machines really helped me to get stronger, and I did a lot to strengthen my hip. I currently work out at KFWC and am doing therapy for my shoulder. It is so important to keep up strength training.
Do you have any personal health and fitness goals, won a competition, etc.?
I really hope to get back to where I was before the accident. I have not run since I was hit by the car. I am biking, swimming and working out with weights and am determined to do the best I can every time I work out!
Is there anything else you would like to add?
It's really important, especially as you get older, to have intensity in your workouts.  If you are not self-motivated, hire a trainer. Nothing takes the place of a great workout! I really feel that exercise helps me as much mentally as it does physically. Don't compare yourself to anyone else and never, ever give up. One day at a time and stay focused and you can do anything. I appreciate having a workout facility like the Kettering Fitness and Wellness Center with all that I need to get in shape and stay in shape.