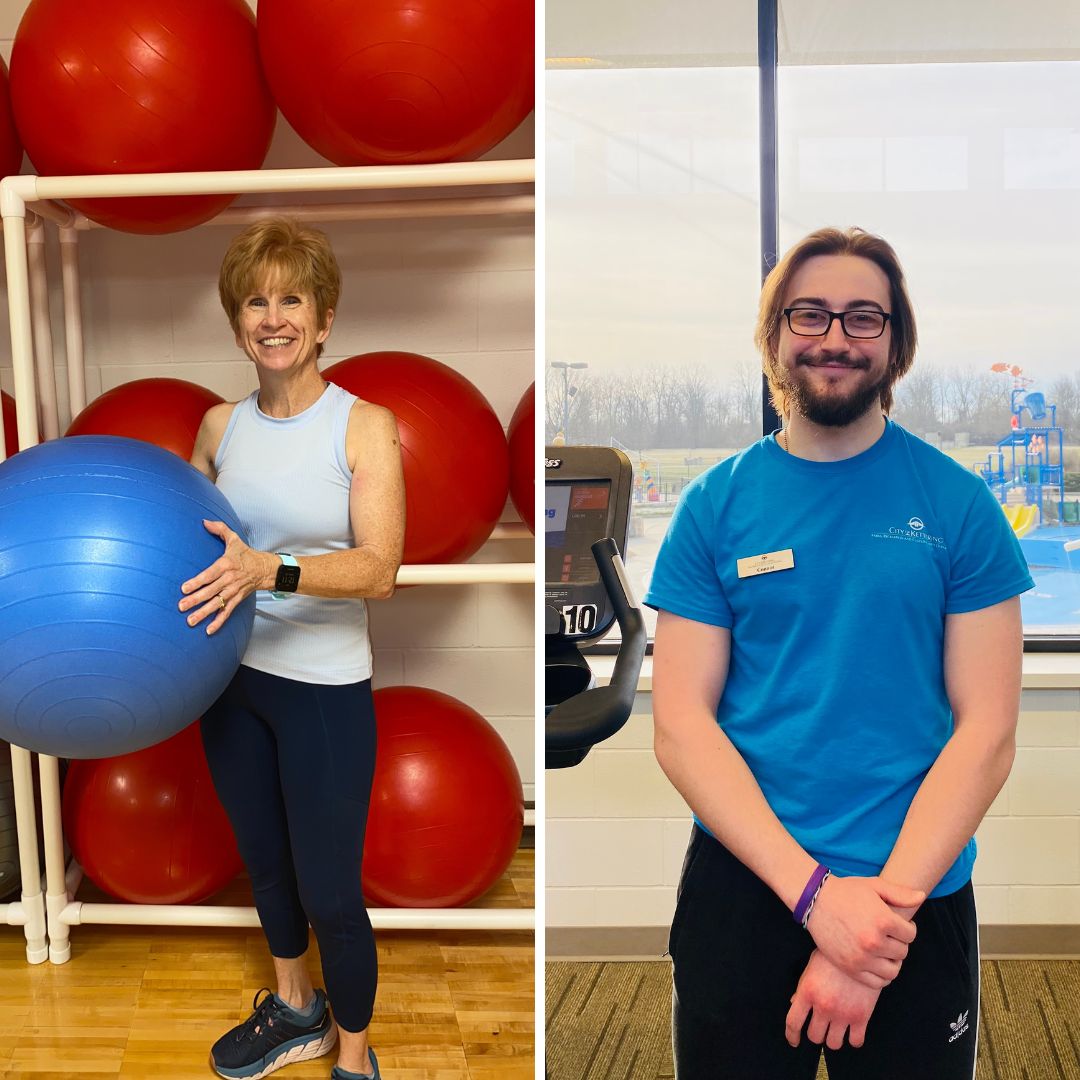 Happy Friday! For our last fitness spotlight of 2022, we're featuring two more of the staff members who help make our fitness programs great. Alexis McLaughlin has been teaching group exercise classes since 2006, and Connor Engleman will celebrate a full year as a fitness specialist in March!
(Above from left: Alexis and Connor)
Alexis McLaughlin
How long have you been working for the City of Kettering as a Group Exercise Instructor? What inspired you to become a group exercise instructor?
I have been teaching since 2006, I believe. I started as a Pilates instructor when our former Group Exercise instructor Emily Jones asked me to get certified so she'd have a substitute! She mentored me, and I stuck with teaching Pilates just a couple times a week. It was quite intimidating to start, but our amazing patrons were so welcoming and accepting of my learning on the job!
Next, Emily asked me to take over one of her weights classes, which I did. I then got Group Fitness Instructor-certified with the American Council on Exercise, which was a lot of work! But now, I have so many resources available to me, and the requirement to take continuing education courses keeps me updated.
What do you like most about instructing classes?
I love our community of exercisers! It feels so good to walk into a chilly fitness studio and hear the warm conversations going on between our patrons, who have become friends to one another. Then, we put the music on and get moving and soon, we're turning on the fans! We laugh a lot and grimace sometimes, but the endorphins are swarming, and we all feel better. No one is a stranger for long in our Group Exercise classes. Everyone can exercise at some level, and we have room for all. To me, our patrons become friends and family. The studio is my happy place!
What is your ideal/favorite type of patron to teach?
My favorite type of patron to teach is one with a sense of humor—especially when they laugh at my lame jokes! Movement should be fun and feel good—at least when we're done. None of us is perfect. We all have limitations and occasional injuries, so we need to do what we can on any given day for our mental, emotional and physical health. Challenging ourselves breeds strength and confidence to tackle whatever our lives have in store for us. If you're not laughing, you're doing it wrong!
Share a favorite teaching moment or success story.
One of my favorite moments occurred because a participant felt unwell during class. She sat down for a few minutes and then went to sit on a bench in the hall. I gave her a Gatorade, and Linda, who works at checkpoint, got her some peanut butter crackers. A nurse from our class checked on her as did two other class participants—both physicians! Our patron was fine—she had picked up a virus from her kids—and she went on home. This underscored the sense of connectedness and community we enjoy. It's that spirit that makes it such a joy to share my love of fitness with our fitness community!
I also love when participants get excited about lifting heavier weights or being able to execute a particularly challenging Pilates move. That sense of achievement is always gratifying!
Connor Engleman
How long have you been working for the City of Kettering at the Kettering Recreation Complex and the Kettering Fitness and Wellness Center?
I've been working for the City of Kettering since last March, so right around 9 months.
What do you enjoy most about working at either facility?
Overall, I think the most enjoyable thing about working at both facilities is constantly being around people working towards some sort of goal. Everyone is at different stages of their journey, and it's been awesome seeing everyone learn and progress more and more towards their goals. It makes the atmosphere all around super motivating.
What has been your biggest accomplishment as a Fitness Specialist?
Being a fitness specialist has so far been super rewarding in a lot of ways already. A couple things really stand out to me, though. One of the most enjoyable parts is doing the orientations for younger patrons. Sometimes, they may not particularly want to do the orientation, but sometimes there's one exercise that they really enjoy, and it's always lot of fun seeing everything click together. Another great part is doing an orientation for someone, then seeing them back at the fitness center days or weeks later. It really feels like we are making a difference in people's lives.
Share your favorite story while working at either the Kettering Recreation Complex or the Kettering Fitness and Wellness Center.
I think my favorite story comes from working at the Kettering Fitness and Wellness Center. I open every Friday there, and when the weather cooperates, my supervisor Lindsey, my coworker Lanny, and I usually end up looking outside and watch part of the sunrise over Fairmont. One morning, the sky was especially colorful, and Lindsey had us go outside and take a picture in front of the sky. It really made the fitness center feel like home, and it was a great way to start the day!