Hamilton Dixon
Motion, 2015
Location: Kettering Government Center South
Hamilton Dixon has created forged steel sculptures throughout the Dayton area, and his artwork is collected in numerous private and public commissions. "The most fluid design is sometimes the most complex thing to make—that's what fun to me—to make a piece of steel look like it is a flowing, organic shape," said Dixon. "There is a lot of satisfaction in that, and it gives me a feeling of worth."
Dixon began welding metal on an offshore oil rig in the 1980s, and continued to learn metal working techniques at the Turley Forge School in Santa Fe, New Mexico.  He relocated to Dayton in the early 1990s and has since created three-dimensional artworks at major landmarks in the region, including at the Dayton Art Institute, the Dayton International Airport, the University of Dayton, and more.  His practice includes functional works, sculpture and jewelry.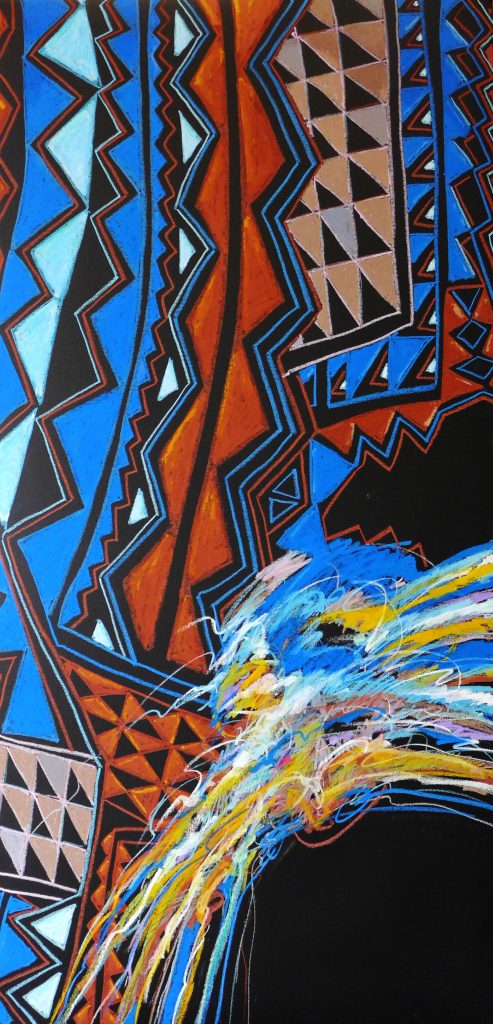 Willis 'Bing' Davis
Ancestral Spirit Dance #259, 1999
Location: Kettering Government Center South
One of Dayton's most celebrated artists, Willis 'Bing' Davis knew that he wanted to be an artist as an elementary school student. Influenced by his community, Davis has striven to celebrate humanity and creativity through his own artwork, teaching others, and activism through art and culture. A true advocate for arts education and its impact on youth, Davis has been instrumental in regional initiatives to bring art to people of all walks of life. "In my works, I'm concerned with taking a given medium and making a personal statement based on my perception, observations and response to my environment," Davis wrote. Beginning in the 1970s, Davis reflected his experiences traveling to West Africa through the Ancestral Spirit Dance artwork series. "I attempt to blend my love for traditional African textiles, as reflected by the geometric patterns in the background, with my urban life experience which is symbolized by the improvisation or abstract gestural movement of a jazz soloist," wrote Davis. "When I view the completed art work, I see it as a visual prayer of thanks for those on whose shoulders I stand…and dance for joy."
Davis received his B.A. from DePauw University and M.Ed. from Miami University, and also attended the School of the Dayton Art Institute. He has exhibited internationally, including at the Studio Museum in Harlem, American Craft Museum, Renwick Gallery, Maryland Institute College of Art, Savannah College of Art and Design, National Museum of Art of Senegal West Africa, U.S. Embassy Accra, Ghana, and Museum fur Angewandte Kunst in Frankfurt, Germany.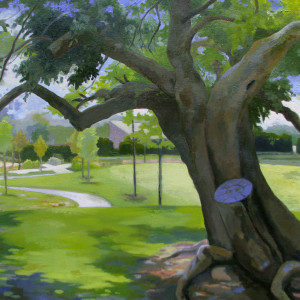 Jean Koeller
Great Mulberry Tree, 2013
Oil on canvas
Fraze Park, 2013
Oil on canvas
Passing, 2013
Oil on canvas
Location: CitySites Collection, North Building, Upper Level
Jean Koeller is a remarkable Dayton-area painter whose numerous commissions, exhibitions, presence in private and public collections, artist awards and her commercial gallery representation has established her as a significant regional artist.
Koeller received her BFA from Wright State University and her MFA from Parsons School of Design in New York. She has participated in the prestigious residency program Skowhegan School of Painting and Sculpture and has received Individual Artist Fellowship Awards from the Ohio Arts Council and Montgomery County. Her work is found in many collections including the Evansville Museum of Art, Ohio Supreme Court, Kettering Hospital, University of Dayton, and the Springfield Museum of Art. She is currently represented by Keny Gallery in Columbus, Ohio.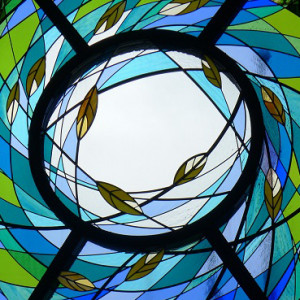 Erin McIntyre
Untitled, 2011 Stained Glass
Location: CitySites Collection, South Building, Main Entrance
In 2009 a call for artist was made to select a glass artist to design and install a 700 square foot window or hanging glass design in the newly renovated Kettering Government Center. In 2010, after reviewing and interviewing artist from a three state area, the Art in Public Places Committee selected, LaGrange, Kentucky stained glass artist, Erin McIntyre. Erin McIntyre designed a beautiful window to fit within the council chambers window that will become a vocal point for the Kettering Government Center. In December of 2010, the installation of the window was completed.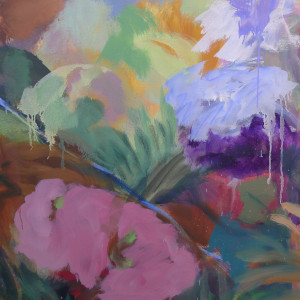 Katherine Kadish
Summer Garden, 2013
Oil on canvas
Spring Garden, 2013
Oil on canvas
Autumn Garden I and II, 2013
Oil on canvas
Location: CitySites Collection, South Building, Lower Level
Artist Katherine Kadish has exhibited her paintings and prints since the early 1970s around the world, including in museums and galleries throughout North America, Europe, and Asia. Inspired by nature, light, color and gesture, her work references calligraphy and expressionism. Drawing from her imagination and from the world around her, Kadish references "a remembered place, an arrangement of shapes, a particular sky or an emotional state."
Kadish received her B.F.A. in painting and design from Carnegie Mellon University and her M.A. in art history from the University of Chicago. Kadish has exhibited her work internationally in addition to having been awarded a number of prestigious fellowships and residencies. Her work is included in collections around the world including the Victoria & Albert Museum in London and the New York Public Library. The artist lives in Yellow Springs, Ohio, and maintains her studio in an 1873 schoolhouse in Clifton and works regularly in New York City.