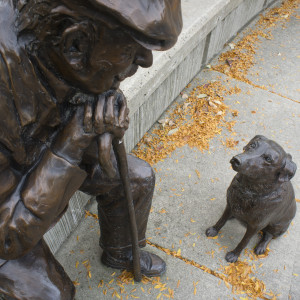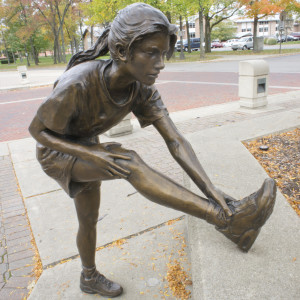 Old Man and His Dog and The Runner installed 2007
Bronze
Location: Lincoln Park Civic Commons
Nationally recognized sculptor, Glenna Goodacre is well known for her larger than life bronze figures.  Among her best known works is the Women's Vietnam Memorial in Washington D.C. on the mall adjacent to the Vietnam Memorial Wall.  Another well known figure of Glenna Goodacre's is the Sacagawea dollar coin design commissioned by the United States Treasury Department. The City of Kettering's CitySites public art program has recently completed the installation of three works by Glenna Goodacre.
Two works, Old Man and His Dog and The Runner were selected for installation at Commons Way entrance to Lincoln Park Civic Commons.  Placed on the concrete wall, both pieces are completely integrated into the park's beautiful surroundings. The two bronzes are from Glenna Goodacre's series entitled Park Place and are an edition of 16.