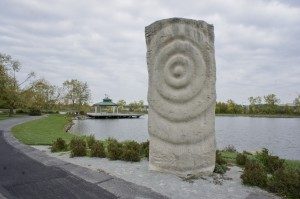 Rock Waves
Indiana Limestone
Location: Delco Park
German artist Anno Seiberts' 26,000 pound sculpture Rock Waves simulates wave formations on the face and the rear of the stone and is repeated in the ripple effects of the water at its location by the pond at Delco Park. The setting surrounding the monolithic sculpture includes plant beds, fishing pier and a walking path.
Anno Sieberts was born in Solingen, Germany, and currently resides in Ettenheim. He studied stone carving in Wurzburg, Germany, and art studies in Italy, France and Germany. Anno received a Masters of Art in stone sculpting in Freiberg, Germany, in 1989 and has been producing as a professional artist from that date. Sieberts has participated in symposiums since 1995 in both Germany and France. His material is centered on stone as well as steel and wood.