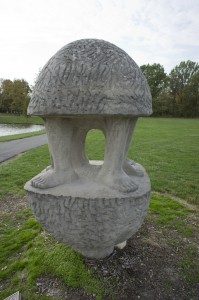 Untitled
Indiana Limestone
Location: Indian Riffle Park
The City of Kettering has established a partnership with the Bulgarian City of Silistra over the past few years. Located in Indian Riffle Park, just south of the pond area, a proposed Silistra Corner has been designed by Bulgarian landscape architect, Toni Ogneva. Due to this unique Bulgarian influence of design and space, the Bulgarian stone sculptor Valislav Minekov was especially pleased with this site for his stone. His sculpture weighs approximately 13,500 pounds and was placed on the west bank of Indian Riffle Pond located next to the Kettering Recreation Complex. The proposed Bulgarian design will add a pier canter levered over the pond with plantings and a walking path. The limestone sculpture depicts a recurring theme of Velislav's, incorporating stalactites which are leg and foot extensions sandwiched between a parted egg shape. The whimsical nature of his work is well known throughout Bulgaria.
Velislav Minekov was born and still resides in Sofia, Bulgaria. He received an undergraduate degree in the arts from the National Lyceum of Fine Arts in 1978 and Masters of Arts in Sculpture from the National Academy of Fine Arts in Sofia. As a student, he held a position as Visiting Student in Hamburg, Germany, at the Academy of Fine Arts. He has also served as senior lecturer and Assistant Professor at the National Academy of Fine Arts for six years.
His work is included in private collections and exhibitions in Germany, Bulgaria, Italy and Morocco. He is very active in the arts global community and is presently a member of the Union of Bulgarian Artists and the Union of Bulgarian Filmmakers. He is a board member of the Professional Sculptors in Bulgaria, member of the Union of Professional Artists in Germany, and Special Commission for Monuments and Sculpture in Bulgaria.