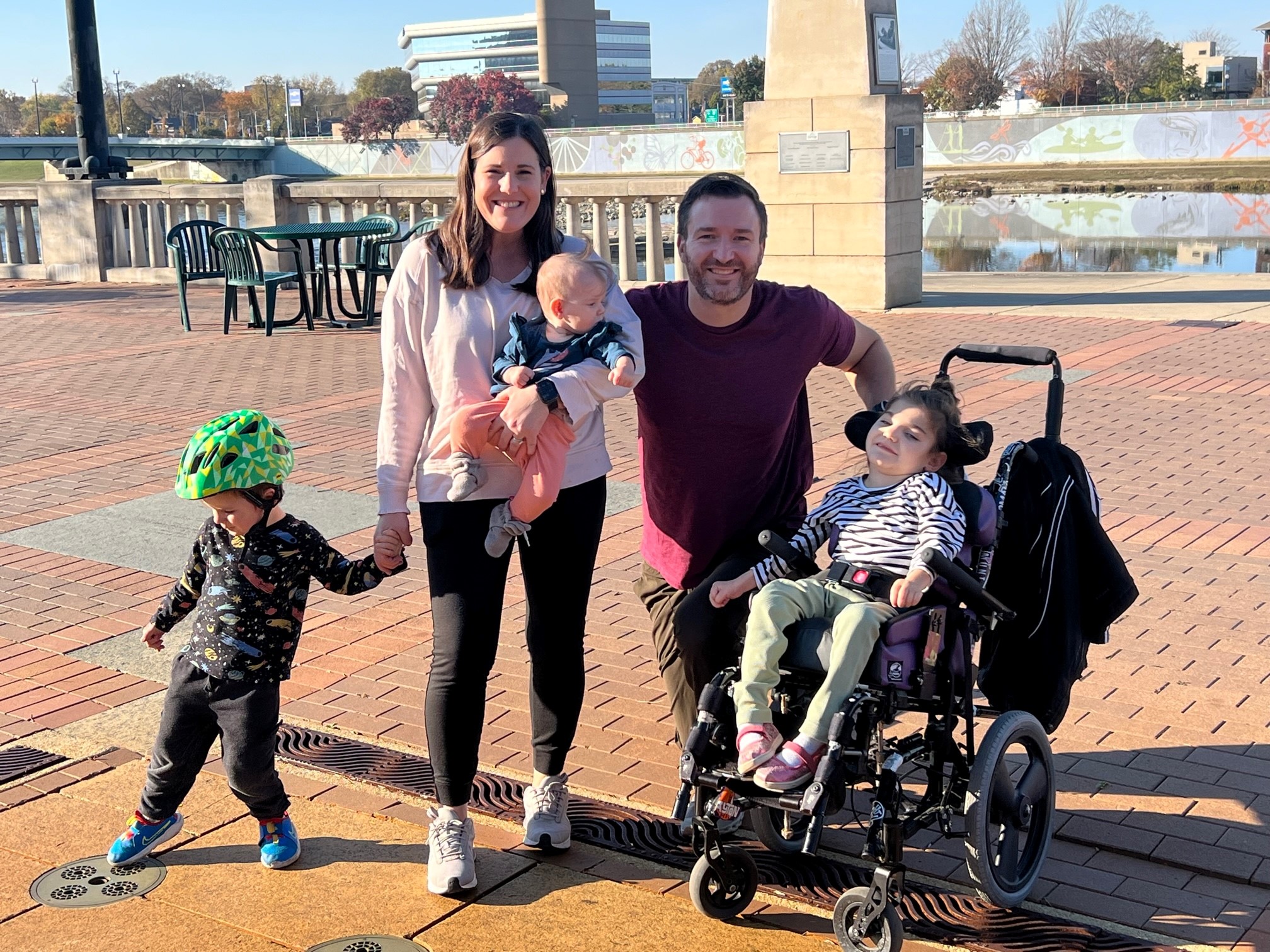 When Louise "Lou" Dyer first attended a dance class at Kettering's Rosewood Arts Center in 2021, her parents Megan and Dan Dyer were thrilled to find a program that welcomed their 6-year-old daughter, who uses a wheelchair, with open arms. Now, thanks to recent renovations focused on accessibility, Lou and other children with disabilities can fully participate and feel included at Rosewood.
"The accessible facility and welcoming team have made Rosewood such a wonderful place for Lou and our family," says Megan Dyer. For years, Lou has attended and loved Ms. Nancy's Dance for the Very Young class, where she is encouraged to dance alongside classmates. Lou also participated in summer dance and art camps at Rosewood along with her siblings Malcolm (2.5) and Rosalind (4 months).
Prior to the upgrades, Dan carried Lou and her wheelchair upstairs for dance class. But the new accessible entrance and renovated spaces have been a game-changer. "Arriving to a building with an accessible entrance immediately says to people with disabilities, 'you are welcome here,'" shares Megan.
Compliance and Inclusion Manager Anna Breidenbach has been instrumental in ensuring accommodations and support for Lou over the years. Instructors like Ms. Nancy and Ms. Sammy Sue have made Lou feel valued and capable. "The team members at the welcome desk have always ensured we feel welcome upon entry," says Megan.
For the Dyer family, Rosewood's commitment to accessibility, inclusion, and the arts has opened up a world of personal growth and community connection. As Rosewood launches its "Rosewood Is…Reinvented & Renovated" campaign, the upgrades serve as both physical and symbolic representations of the arts center's mission to be accessible to all. 
"We are so thankful for the focus on accessibility and inclusion," Megan Dyer shares. "Just one of many reasons why we are proud to call Kettering home."