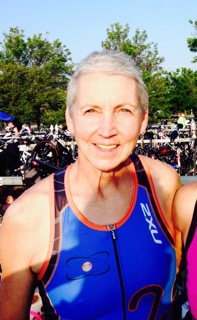 May is National Water Safety Month! One of the most valuable water safety tools a person can have is the ability to swim. This month, we're featuring a few of our amazing aquatics staff. Learn what inspires them to help people enjoy the water safely. First up, meet Ruth Kohstall, who first learned to swim as an adult and later became a swim instructor at the Kettering Recreation Complex.
What motivated you to start swimming as an adult?
At age 45, I took up running, then biking, for exercise and fun. After about 10 years of that, I decided I really wanted to compete in triathlons (swim, bike and run), with the ultimate goal of doing an Ironman distance race (swim 2.4 miles, bike 112 miles and run 26.2 miles). I had the bike and run thing down, but didn't know how to swim freestyle, or anything besides a little side stroke or dog paddle, just enough to keep from drowning!
How long did it take you to feel confident in the water?
It took me about five sessions before I could swim across a 20 yard pool, without stopping and standing to catch my breath! I had a coach at a local pool, who was very patient and encouraging. It took another few months of practicing (two to three times per week), before I was comfortably able to swim about 400 yards without stopping at each end of the pool. This is about the shortest distance required in a triathlon. I wasn't fast (still not fast), but I could do it!
It took almost three more years of slowly increasing my distance (and working on my technique and stroke) before I was able to swim the Ironman distance of 2.4 miles! Since then, I've completed 12 Ironman races and qualified and competed in the Ironman World Championship in Kona, Hawaii three times over the past five years.
How did you decide to become a swimming instructor and how long have you been teaching?
The swim instructor job was a bit of a whim initially. I wanted to get back in the pool here (didn't like the pool I was a member of at that time). KRC does such a great job maintaining the water quality! A friend mentioned the need for swim instructors, so I filled out an application and got a call. I started teaching in January of this year and totally fell in love with working with young children! The look of wonder on their face when they "get it" brings joy to my heart!
What's the most rewarding part of teaching swimming? Of learning how to swim in general?
As mentioned previously, it warms my heart to see others start to feel confident in the pool. Learning to feel the water, explore it, move through it, to not fear it, is a great place to be. To know that in some small way, I might be helping prevent an accidental drowning, though not apparent, gives teaching beginner swimming a larger sense of purpose.
What would you tell someone who's considering learning to swim as an adult?
Buy a swim suit and goggles, and get started! Don't worry about how you look. And if your first instructor isn't working so well for you, find another. It IS possible and you won't regret it!
Do you have any advice for parents who are considering swim lessons for their kids?
There are lots of reasons to learn to swim:  safety around water, recreational, exercise and possibly competition. As with all new skills, it takes practice to become proficient. Try to utilize the "open swim" times outside of lessons to give your child extra free time in the water. This can help them overcome their fears faster, besides helping their endurance, as their skills in the water advance.