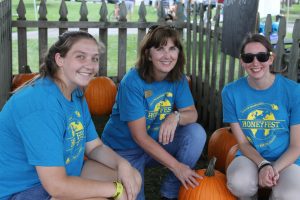 We're continuing our series of profiles on our talented Kettering PRCA team members! Learn what inspired them to choose careers in parks and recreation and what they love about working with the community.
Next up:  Environmental Education Supervisor, Kerri Miles
What led you to a career in environmental education?
I've always loved the outdoors.  My parents took my siblings and I camping and fishing often and pretty much made us stay outside when the sun was up (and sometimes when it wasn't). I listened to a lot of John Denver growing up and that sealed the deal on doing something to help the earth. I attended Wright State University, which had Natural Resource Management degree and an Environmental Studies program at that time.
What's your favorite part of your job?
I can't even begin to pick one favorite part of my job, but I think I would have to say it's a tie between working outside and teaching kids about our amazing earth. There are definitely challenges with the decline in the amount of time that kids spend outside. I love that Kettering Parks, Recreation, and Cultural Arts has made it a priority to help with this disconnect by providing opportunities such as Land Lab, which is in its 15th year of existence, and our new Kaleidoscope Art and Nature on Wheels program.
Can you describe your most rewarding experience or favorite memory of working at the Habitat Center?  
The most rewarding part of my job is that I am able to watch as students, and adults too, experience the wonder of nature as they catch their first fish, watch a butterfly come out of its chrysalis, or walk through the night woods searching for owls. I also really enjoy the relationships that have been forged with Habitat volunteers, local businesses, teachers, and even other city departments who support our mission.
Why is environmental education particularly important for our region? 
We have amazing resources in this area, including five rivers and plenty of green spaces that need to be preserved and protected. Fortunately, we live in a region that has abundant outdoor recreation and environmental education opportunities to help residents become better stewards of their resources.  I'm proud of Kettering for continuing the Land Lab program for students, for being a friend to pollinators, and for being a Tree City USA.
 What programs or events are you looking forward to right now?  
We have started an afterschool explorers program called Habitat Rangers, which will continue through spring, and we will be offering our first Snowy Owl Camp during the first week of January. Also, we have a few new educational additions to the Habitat. Using grant money, we were able to acquire an Enviroscape and an ARS (Augmented Reality Sandbox), which will help us with our watershed education program. Learn more about the Habitat Environmental Center's programs.