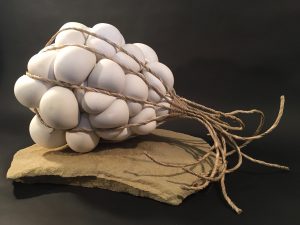 August 28 – October 6, 2017
Reception: Thursday, August 31, 6 – 8pm
Rosewood Gallery in Kettering, Ohio is pleased to announce the opening of the 11th annual HWD, a juried exhibition for sculpture artists in Ohio and surrounding states. HWD (Height x Width x Depth) is the area's only gallery exhibition devoted exclusively to sculpture. The exhibition runs from August 28 through October 6, 2017. There will be an opening reception on Thursday, August 31 from 6 – 8pm with an awards presentation at 7pm.  Both the reception and exhibition are free and open to the public.
This year, 42 artists submitted 117 pieces, from which the juror, Virginia Kistler, chose 32 artworks representing 17 artists. Kistler also selected the show's award winners, totaling $1,100.
Kistler selected five Juror's Choice award winners:
Connie Campbell of Franklin, OH for Series II #4
Jonah Jacobs of Mentor, OH for Green Internode #1
Henry Sheets of Ada, OH for Icon of the Faith, Pious Travel
Bradley Weyandt of Greensburg, PA, for Hair Block Pile 
Summer Zickefoose of Canfield, OH for skin, gut, and debone
Participating artists include Connie Campbell, Michelle Droll, Eric Hamlin, Rebecca Hamlin Green, Doug Harlow, Jonah Jacobs, Christine Kern, Alice Kiderman, Brent Oglesbee, Henry Sheets, Laura Shope, Megan Smallwood, Rachel Smith, Bradley Weyandt, Jennifer Whitten, Summer Zickefoose, and Brian Zimerle.
This year's juror, Virginia Kistler, received a Bachelor of Science from The Ohio State University and Master of Fine Arts from the Columbus College of Art and Design. She is an interdisciplinary artist working primarily in sculpture and photography while using a variety of media—laser cut rubber, CNC router-cut plastic, and 3D printed plastic. Her work focuses on the ubiquity of urban landscapes and the absence of biodiverse spaces. She has shown work nationally and internationally and has been commissioned by the Lincoln Motor Company, the Dayton Metro Library, and the city of Columbus to create permanent works of sculpture. Kistler lives and works in Gahanna, Ohio.
Hours for the exhibition are Monday through Thursday, 9am – 9pm; Friday, 9am – 6pm; and Saturday, 9am – 3pm. Rosewood Gallery is sponsored by the City of Kettering Parks, Recreation and Cultural Arts Department, with support from the Kettering Arts Council and the Ohio Arts Council. The Gallery is located in the Rosewood Arts Centre, 2655 Olson Drive in Kettering.