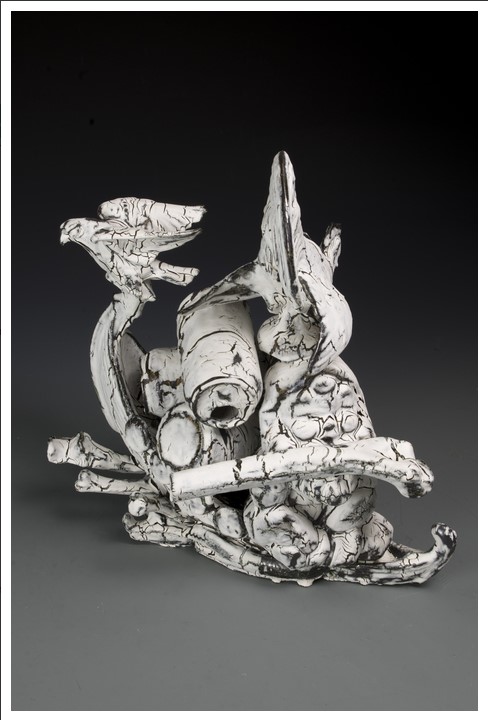 15th annual HWD Juried Sculpture Exhibition
August 16 – October 22, 2021
Closing reception: October 22, 5 – 7 p.m.
Rosewood Gallery in Kettering, Ohio is pleased to announce the 15th annual HWD, a juried exhibition for sculpture artists in Ohio and surrounding states. HWD (Height x Width x Depth) is the area's only gallery exhibition devoted exclusively to sculpture. The exhibition runs from August 16 through October 22, 2021. There will be a Closing reception on Friday, October 22 from 5 – 7 p.m. with an awards presentation at 6 p.m. Both the reception and exhibition are free and open to the public. Artists will be able to collect their art after 7 p.m.
This year, 39 artists submitted 106 pieces, from which the juror, Matt Distel, chose 26 artworks representing 23 artists. Distel will also select the winners of six awards, totaling $1,100.
Participating artists include: Greg Blair, Patricia Boone, Connie D. Campbell, Barbara Melnik Carson, Marianne Engle & Ken Raiteri, Nathaniel Foley, Eric Hamlin, Elizabeth Hartman, Kenn Hetzel, Mary Hilton, John Humphries, Drew Ippoliti, Chris Itsell, John Kinnee, Brandon Lowery, David Marquez, Jennifer Marsh, Gary Mulnix, Susan Phillips, Henry Sheets, Brian Stuparyk, Jennifer Whitten, and Summer Zickefoose.
Matt Distel is the Exhibitions Director for The Carnegie in Covington, KY. Prior to joining The Carnegie, Distel was an Adjunct Curator of Contemporary Art for the Cincinnati Art Museum, Executive Director of Visionaries + Voices and the co-founder and director of Country Club, a commercial gallery based in Cincinnati and Los Angeles. A Cincinnati native, Distel has been organizing exhibitions since 1994 with a particular focus on artists from the region. From 2003-2007 he was the Associate Curator with the Contemporary Arts Center in Cincinnati. Distel has curated and organized numerous exhibitions and installations including projects with SIMPARCH, Kendell Geers, Guy Benner, Katerina Burin, Temporary Services, The Yes Men, Beth Campbell, Alexis Rockman, Jay Bolotin, Shana Moulton, Future Retrieval, Terry Berlier, Design 99, Courttney Cooper, Ryan McGinness, Ellen Berkenblit, Edie Harper, Tom Wesselmann and Atlas Group.