17th Annual HWD Juried Sculpture Exhibition
Sept. 11 – Nov. 18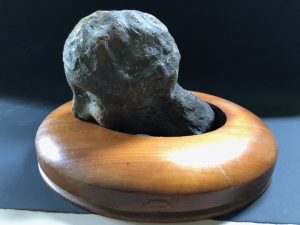 The gallery at Rosewood Arts Center in Kettering, Ohio is pleased to announce the opening of the 17th annual HWD juried sculpture exhibition.
The exhibition runs from Sept. 11 to Nov. 18, 2023.
HWD  is a juried exhibition for sculpture artists in Ohio and surrounding states. HWD (Height x Width x Depth) is the area's only gallery exhibition devoted exclusively to sculpture. This year, 59 artists submitted 166 pieces, from which the juror, Geno Luketic, chose 29 artworks representing 26 artists. Luketic will also selected the winners of awards totaling $1,600. Three $100 People's Choice Awards will be presented by the Joan W. McCoy Memorial Art Fund at the conclusion of the exhibition.
Participating artists include Guustie Alvarado, Gary Birch, Asha Cabaca, Bob Coates, Gabrielle Davis, Chet Geiselman, Kathy Guest, Eric Hamlin, Pamela Hignite, Nicholas Hill, Lynn Holtzman, John Kinnee, Violet Maimbourg, David Marquez, Liam McSteen, Gary Mulnix, Maria Patterson, Lisa River Schenkelberg, Matthew Schellenberg, Phoebe Scott, Alice Tavani, Eric Tuck-Macalla, Maria Valente-Hupp, and Mike Wolfram.
Hours for the exhibition are Monday – Thursday 10 a.m. – 9 p.m., Friday 10 a.m. – 5 p.m.; Saturday 10 a.m. – 3 p.m.
Rosewood Gallery is sponsored by the City of Kettering Parks, Recreation and Cultural Arts Department, with support from the Kettering Arts Council and the Ohio Arts Council. The Gallery is located in the Rosewood Arts Center, 2655 Olson Drive in Kettering.