32nd annual Dayton-area Works on Paper
On view January 24 – February 25, 2022 (Closing Reception: February 26, 1-3 p.m.)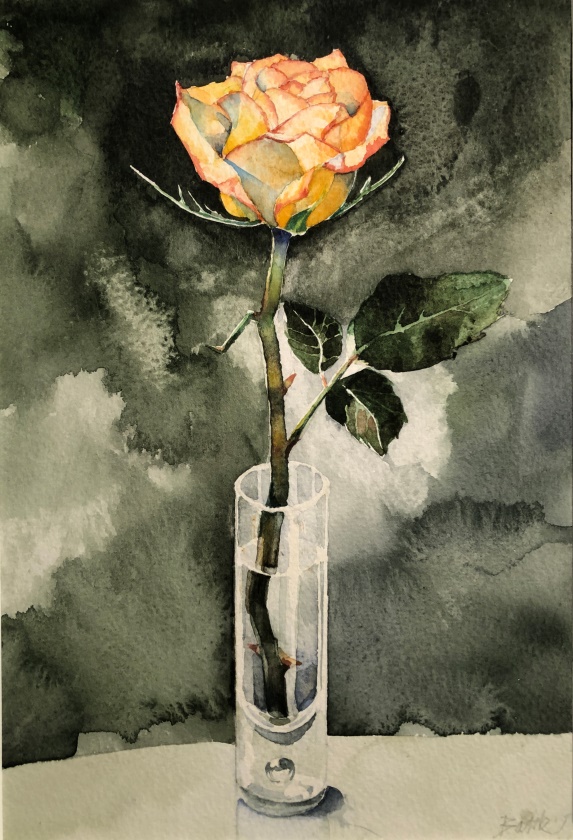 Rosewood Gallery in Kettering, Ohio is pleased to announce the opening of the 32nd annual Dayton-area Works on Paper exhibition. The exhibition runs from January 24 through February 25, 2022. There will be an artists' reception on Saturday, February 26 from 1-3 p.m. with an awards presentation at 2 p.m. Both the reception and exhibition are free and open to the public.
Works on Paper is a juried exhibition for artists living within a 40-mile radius of Dayton, Ohio. This year, 83 artists from Dayton and the surrounding areas submitted 200 pieces, from which the juror, Willis Bing Davis, chose 54 artworks, representing 44 artists. He also selected award winners totaling $1,100. The People's Choice award presented by the Joan W. McCoy Memorial Fund will be announced at the close of the show.
Participating artists include Susan Ayers, Claudia Baldwin, David Battle, Shirlee Bauer, Lisa Becker, Matthew Boyd, Angela Burdon, Bruce Campbell, Daniel Cleary, Annica Damico, Billie Dickson, Kurt Doll, Jeanne Rusnak Fehskens, Tracy Foskuhl, Mark Freytag, Terry Glass, Lloyd Greene, Shirley Harbaugh, Kay Hissong, Cathy Jeffers, Richard B. Jurus, Colleen Kelsey, Christine Klinger, Daniel Landis, Brian Loges, Elizabeth A. Martin, Jim McCullough, Glenda Miles, Kathy A. Moore, Betty Murray, Rosemary Nick, James A. Padgett, Francine Riley, Rose Schultz, Hal Shunk, Jeffrey Smith, Sharon Stolzenberger, Doug Taylor, Sean Wilkinson, Margaret Wittmer, Taliofarro Sebastian, Bill Woody, and Sarah Wrona.
2022 Juror: Willis Bing Davis
Juror, Willis Bing Davis, grew up in Dayton, Ohio where he lives today.  He attended DePauw University in Greencastle, Indiana, graduating in 1959.  He also attended the school of the Dayton Art Institute and           received his Master of Education degree in 1967 from Miami University, Oxford, Ohio.  Davis also pursued graduate study at Indiana State University from 1975-1976. His career as an educator includes: teaching in the Dayton Public School System; Teaching at DePauw and Miami Universities; and twenty years at Central State University (CSU) in Wilberforce, Ohio. While at CSU, Mr. Davis was also Chair of the Art Department and Director of the Paul Robeson Cultural and Performing Arts Center.  He has also served as an artist-in-residence for the School of Education at the University of Dayton, and visiting scholar at Wright State University.  He is Acting Treasurer of National Conference of Artists (NCA).
Bing's 40 plus years of teaching art included elementary, high school, and universities.  His creative and innovative approach to teaching, learning, and human development through the arts resulted in his receiving state, national and international acclaim, including Ohio Art Educator of the Year, Individual Artist of the Year, Ohio Designer Craftsman of the year, and the Ohio Governor's Irma Lazarus Lifetime Achievement Award in 2009, the highest art award given in the state of Ohio.
Since retiring from teaching in 1998, he has opened the Davis Art Studio and EbonNia Gallery in the historic Wright-Dunbar Business District where fine arts and crafts are produced by Bing, Audrey, and son, Derrick Davis.  Youth and community art and cultural activities are coordinated through SHANGO: Center for the Study of African American Art and Culture (501c3).