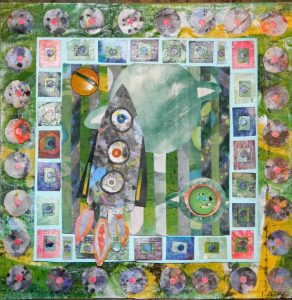 7th Annual Art Ed:  An Art Educators' Exhibition
November 27 – December 29, 2017
Reception:  Saturday, December 2, 11am – 3pm during A Rosewood Holiday Arts Festival
Rosewood Gallery in Kettering, Ohio is pleased to announce the opening of Art Ed: An Art Educators' Exhibition.  The exhibition runs from November 27 through December 29, 2017.  The public is invited to vote for their favorite artwork at the reception, which will be held during A Rosewood Holiday Arts Festival on Saturday, December 2, from 11am – 3pm.  Both the reception and exhibition are free and open to the public.
People's Choice Awards
Thanks to all who attended the A Rosewood Holiday Arts Festival event and the Art Ed: An Art Educators' Exhibition reception! We had incredible attendance and, as always, a very successful People's Choice Awards voting turnout!
Congratulations are in order for our FOUR award winners, who received the highest number of votes from attendees:
First Place: Andrew F. Dailey for Eidolon
Second Place: THREE-WAY TIE
Sharon Govender for Abstract I
Tim Langenderfer for Classroom Demos
Kristin Mitchell for Resilience
Art Ed began in 2011 at Rosewood Gallery as a way to celebrate our local art educators. The 49 participants in this year's exhibition are current or retired art teachers in Dayton and the surrounding areas.
Participating artists: A. Joseph Barrish, S.M., Zac Benson, Peter Berwald, Carlee Bollin, Patricia Boone, Kelley Booze, Cynthia Bornhorst-Winslow, R. Darden Bradshaw, David Brand, Matthew R. Burgy, Virginia Burroughs, Janet Butsch, Jim Champion, Molly Christian, Ronald Claxton, Bob Coates, Andrew F. Dailey, Greg Dearth, Mark Echtner, Mitchell Eismont, Aaron Gosser, Sharon Govender, Lindsay Gustafson, Leesa Haapapuro, Shirley Harbaugh, Kelly Joslin, Cydnie King, Christine Klinger, Tim Langenderfer, April Lemaster, Tess Little, Brian Loges, C. Pat McClelland, Tracy McElfresh, Diane M. Mitchel, Kristin Mitchell, Suzanne Mitolo, Kathy A. Moore, Sandra Picciano-Brand, Kate Huser Santucci, Rose Schultz, Megan J. Smallwood, Barb Stork, Sally Struthers, Sara Torgison, Joanne Von Sossan, Mary Beth Whitley, Leonard Williams, and Sharon Williams.
Hours for the exhibitions are Monday through Thursday, 9am – 9pm; Friday, 9am – 6pm; and Saturday, 9am – 3pm. Rosewood Gallery is sponsored by the City of Kettering Parks, Recreation and Cultural Arts Department, with support from the Kettering Arts Council and the Ohio Arts Council. The Gallery is located in the Rosewood Arts Centre, 2655 Olson Drive in Kettering.