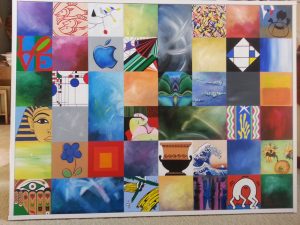 October 26 – December 31
Reception: December 5, 11am – 3pm
Art Ed began in 2011 at the Rosewood Gallery as a way to celebrate our local art educators.  All 46 participants in the Art Ed 2015 exhibition are currently teaching art in Dayton and the surrounding areas.
Participating artists: Stephanie Beiser, Susan Bennett, Bridgette Bogle, Michael Bonilla, Cynthia Bornhorst-Winslow, R. Darden Bradshaw, Matthew R. Burgy, Tricia Calvert, Ed Charney, Bob Coates, Andrew Dailey, Gregory M. Dearth, Scott Dooley, Mark Echtner, Mitchell Eismont, Aaron Gosser, Sam Grillmeier, Lindsay Gustafson, Leesa Haapapuro, Aubrey Hackett, Shirley Harbaugh, Sara Hawkins, Kelly Joslin, Richard Jurus, Tom Kinarney, Janet Olney Lasley, Annie Lee-Zimerle, Joshua Merritt, Diane M. Mitchel, Kristin Mitchell, Kathy A. Moore, Penny Park, Roxann Patrick, Katrina Pierce, Amy Powell, Crispin Prebys, Wil Rowland Jr., Francis Schanberger, Billy Simms, Barb Stork, Sally A. Struthers, Peggy Trimble, Joanne Von Sossan, Leonard Williams, Sharon Williams, and Brian Zimerle.
Attendees at the A Rosewood Holiday Arts Festival selected three People's Choice Award winners. First Place: Leesa Haapapuro for Enchanted Garden; Second Place: Tom Kinarney for On the Prowl; Third Place: Lindsay Gustafson for Triforce.