Artist Studios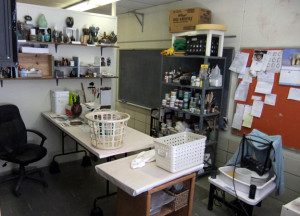 Artist studios are available at Rosewood Arts Centre and applications are accepted on a rolling basis, reviewed as studio spaces become available.  Spaces are available for artists with an active practice and a commitment to sharing their work with the Kettering community.  10 x 10 studio spaces are $85/month for Kettering residents and $130/month for nonresidents.  For more information about artist studios, please contact Rosewood at 296-0294.
MEET OUR PRIVATE STUDIO ARTISTS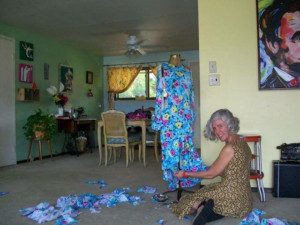 Fiber artist Tracy McElfresh, our newest studio renter says, "Hi, I'm Tracysews, aka Tracy McElfresh, from Kettering, Ohio. I love custom sewing work and dresses are my favorite. I'm also a fit specialist, freelance writer, blogger, garment construction expert and sewing instructor. You can find me on every social media channel, including my cheesy, unedited how- to YouTube videos. I am also one of the former co-owners of Sew Dayton."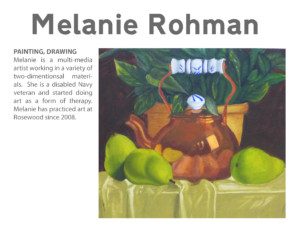 Multi-media artist, Melanie Rohman, is a disabled Navy veteran who holds an art degree in voc rehab. She began her artistic practice as a form of therapy and works in a variety of two-dimensional media. She has had a studio at Rosewood since 2008.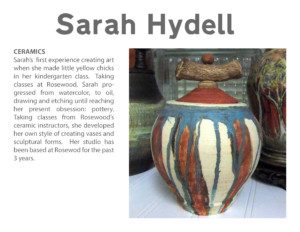 Sarah Hydell, a ceramic artist with experience in a variety of media, first experienced art making in kindergarten, when she enjoyed making a set of yellow chicks. In adulthood, she sampled watercolor, etching, drawing, oil and finally, pottery classes at Rosewood. Taking classes from Rosewood's ceramics instructors, she developed her own style of creating vases and sculptural forms.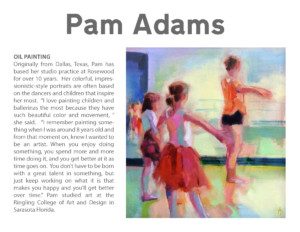 Longtime studio renter, Pam Adams, is originally from Dallas, Texas. Her colorful, impressionistic portraits are often based on the dancers and children that attend classes at Rosewood. "I love painting children and ballerinas because they have such beautiful color and movement," she said. "I remember painting something when I was around eight years old, and from that moment on I knew I wanted to be an artist. When you enjoy doing something, you spend more and more time doing it, and you get better at it as time goes on. You don't have to be born with a great talent, but just keep working on what it is that makes you happy, and you'll get better over time. Pam studied art at the Ringling College of Art and Design in Sarasota, Florida.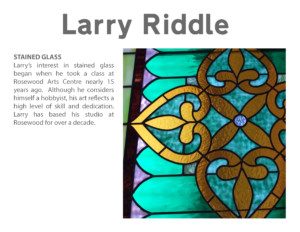 Larry Riddle's interest in stained glass began when he took a class at Rosewood about 15 years ago. Although he considers himself a hobbyist, his art reflects a high level of skill and dedication. His studio has been based at Rosewood for over a decade.
Painter Maria McGinnis says of her art, "My work started out being my therapy as I explored expressing emotions about my family and my life. It started with portraits of my family and using mark making, texture and color. I moved to still life as way to find peace and calm in my turmoil of losing love ones and panic. My playground series came from focus on my children after divorce. I drew from my life again where I was in my journey all along. I am at a more calm and peaceful place in life. I am working to get ideas out and explore what I want to show in my work at this new place its all a new experience."
Andrew F. Dailey
Andy holds an MFA from Miami University, Oxford and BFA from Wright State University both with concentrations in drawing and painting. He has won numerous awards for his artwork, including an Individual Excellence Award from Ohio Arts Council. Dailey exhibits his artwork regionally and nationally. He currently serves as the cultural Arts Program Supervisor for the City of Kettering.
Lynn Wheeler
Lynn's professional career is expansive and diverse. Whether her time in office administration or the first female officer in her hometown, she has proven she is up to the task no matter the challenges she faced.  Her most recent career as a mental health therapist gave her the opportunity to really see first hand how a healing environment can make the difference between hurting and healing. She cherished the challenge and experiences that each profession gave her. The most rewarding and fulfilling be far was primary caregiver to both of her parents. It was during that time she was able to selflessly give herself of herself to the two people that mattered most.