11 a.m. – Kaleidoscope Art Projects with Brooke – Mason Jar Pencil Holder
Brooke will help you create a fun, funky, and functional pencil holder to help you kick off the new school year.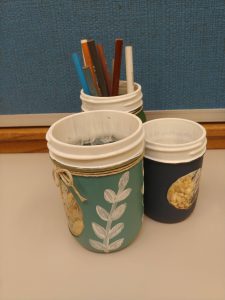 12 p.m. Excursions with WYSO's Niki Dakota
Featuring the music of Shrug and Yuppie
1:30 p.m. LIVE interview with David and Sandra Brand of Mythic Silver
Local artists David and Sandra Brand show-off their studio and share a bit of their creative process with metal working, silver soldering, and more!
 3 p.m. demo – Nikki Strouss, Ceramics
Nikki Strouss, Rosewood's Artist in Residence is getting ready for her upcoming gallery exhibition. She is known for her immense and highly sculptural vessels. Transforming 50 pounds of clay is surely no small feat!