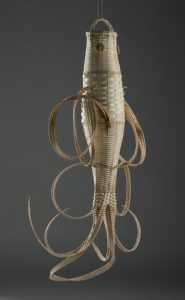 August 25 – September 26, 2014
Reception:  Sunday, August 24, 2-4pm
About HWD (Height x Width x Depth)
HWD, or Height x Width x Depth, is a juried exhibition of three-dimensional artwork by artists from Ohio and surrounding states.  Established in 2007, HWD is the region's only gallery exhibition focused exclusively on sculpture.  This year, 48 sculpture artists from Ohio, Indiana, Michigan, West Virginia, Pennsylvania, and Kentucky submitted 130 pieces, from which the juror chose 30 artworks, representing 27 artists.
The 2014 exhibition features works by the following artists:
Ann Bain  ·  Tyler Bohm  ·  Cynthia Bornhorst-Winslow  ·  Rebecca Carpenter  ·  Bill Danzig  ·  Deb Davis Livaich  ·  Scott Dooley  ·  Patty Emerson  ·  Nathaniel Foley  ·  John Hunting Hansen  ·  Ron Hundt  ·  David Kenworthy  ·  Virginia Kistler  ·  Sarah Krupp  ·  Todd Matteson  ·  Rob Millard-Mendez  ·  Emily Moores  ·  Tybre Newcomer  ·  Cozette Phillips  ·  Elizabeth Runyon  ·  Julia Sebastian  ·  Chuck Sharbaugh  ·  Janet Smith  ·  Jason Tanner Young  ·  Steve Totin  ·  Christy Wittmer  ·  Summer Zickefoose
2014 Juror: Carrie Longley
Carrie Longley is a studio artist and educator. She is currently an Assistant Professor of Fine Art at Indiana University East. She holds a BA in Studio Art from Wittenberg University MFA from Indiana University in Bloomington, Indiana. Her artwork investigates the relationship between the art object and scientific specimen, celebrating the space between illusion and reality. She exhibits her work extensively throughout the United States and has received numerous awards including Emerging Craftsman from Ohio Designer Craftsman, The Bobby Kadis Award at the Penland School of Crafts, and the William and Dorothy Yeck Young Sculptor's Award.
Juror Statement:
"Having exhibited my own work twice before in this exhibition, it was truly an honor to be selected as this year's juror for the HWD exhibition. I am consistently impressed by the innovation, variety, and incredible skill sets of the HWD artists. The exceptional entries this year made the jurying process an inspiring challenge.
"As is the case with many juried art exhibitions, jurying was completed using digital images of the artwork. As a sculptor, I find it especially difficult to capture the height, width, and depth of my work with digital photography. The featured artists in the exhibition were able to clearly communicate varying degrees of dimension and surface details of their sculptures with digital images alone—a feat in and of itself.
"As a viewer, I'm drawn to works which feature unique combinations of the familiar and imagined. With much of the work, the use of familiar materials or repurposed objects such as wood, steel, ceramics, even shag carpet initially captured my attention, while the imagined aspects encouraged me to further investigate, admire, and wonder.
"I would like to commend and thank the artists for participating in this exhibition. My sincere congratulations to all artists who were able to transform their ideas and materials into innovative works of art."
Award Winners
Longley selected six works to receive awards totaling $1,100 sponsored by United Art and Education:
First Place: Nathaniel Foley, Three and One Wings, 2011, Baltic birch plywood, cable, drawings, bird bones.
Second Place: Christy Wittmer and Julia Sebastian, there, there, porcelain, plaster, felt, foam.
Third Place: Tyler Bohm, Ur, mixed media on plexiglass.
Honorable Mention: David Kenworthy, Inflated Wood, wood, plaster.
Honorable Mention: Virginia Kistler, Chiaroscuro Columbus, plastic sheeting, steel cable.
Honorable Mention: Janet Smith, Ann Bain, and Ron Hundt, Farm Door, wood, stone, paint, graphite.