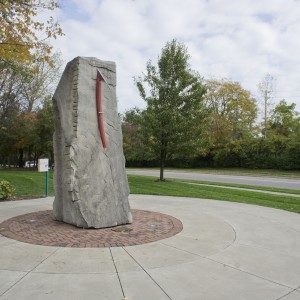 John Van Alstine
Memorial for 9/11, 2002
Indiana Limestone and Painted Steel
Location: Lincoln Park Civic Commons
Artist John Van Alstine create the piece "Memorial for 9/11" with a gathering and sitting space for the community. The 26,600 pound sculpture is also a solar calendar, allowing the solar noon sun to line up with the stylus on the monument each year on September 11.
John Van Alstine is a professional sculptor living in Wells, New York. He received a Masters of Fine Arts Degree from Cornell University in Ithaca, New York, in 1976 and a Bachelor of Fine Arts Degree from Kent State University in Kent, Ohio, in 1974. He has received numerous awards, fellowship grants and honors for his work from private and public sources as well as internationally. His work is among public and private collections throughout the U.S. and abroad. His book has been published illustrating the sculpture and progress over the years entitled Bones of the Earth, Spirit of the Land written by Nick Capasso. His work has been displayed in solo exhibitions, both domestically and in international galleries since 1976.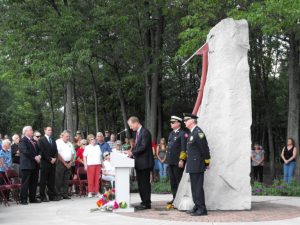 On September 11, 2011 and 2016, City of Kettering officials, police and firefighters gathered for a special commemoration of the 10th and 15th anniversary of the September 11, 2001 terrorist attacks. The agenda included remarks by Kettering's mayor and city manager, as well as presentations by community members from Kettering City Schools, We Care Arts and other organizations. Ceremonies honoring our nation's flag were conducted by fire and police department representatives.