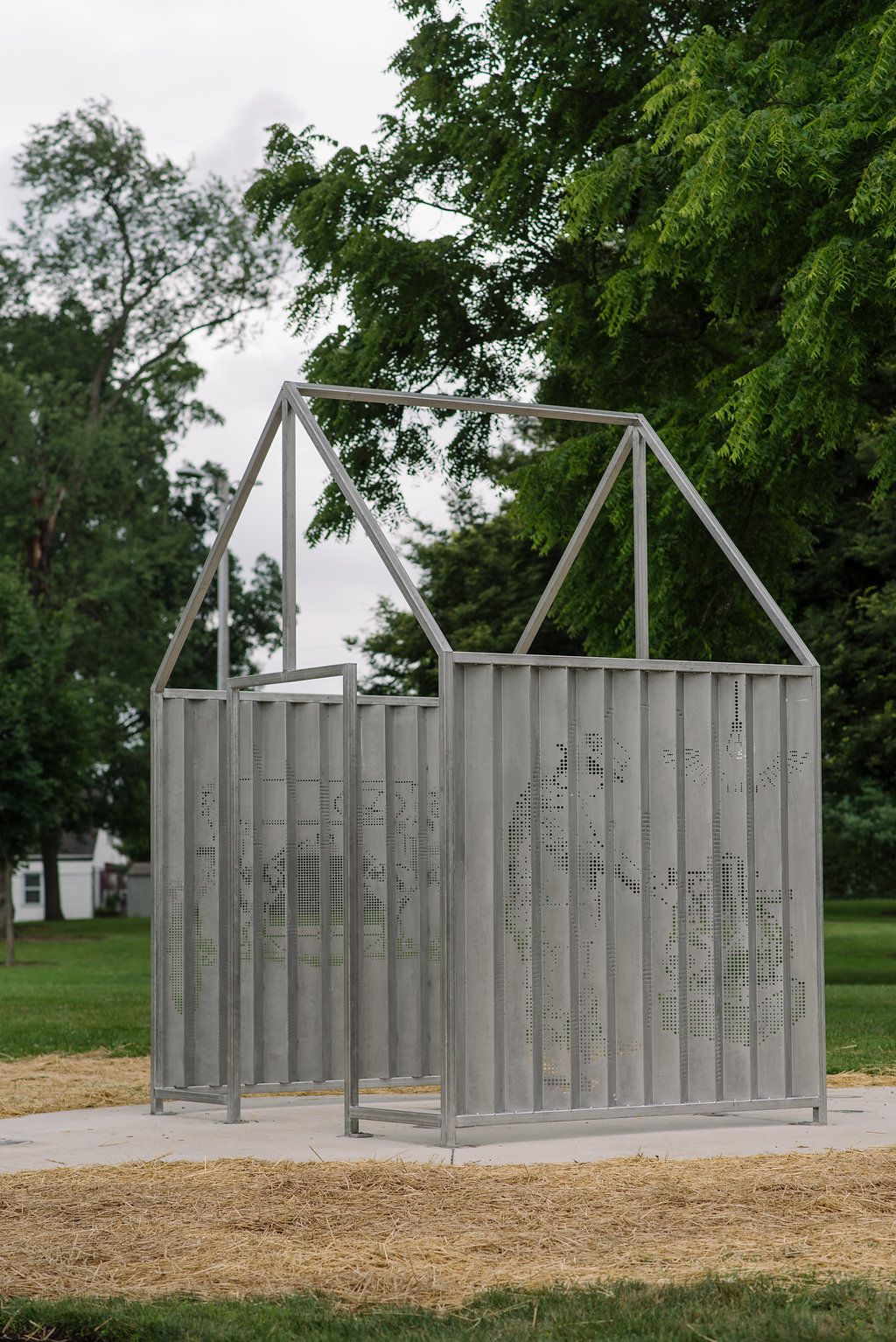 Virginia Kistler (Gahanna, OH)
Mutual Homes, 2018
Stainless steel
Location: Oak Park
Mutual Homes reflects the meaning of home to Oak Park residents. Kistler was inspired by the characteristics of Oak Park's 1945 Cape Cod-style homes, the history of the neighborhood, and the words and images shared by its residents today. Kistler found the manufacturing aspect of the neighborhood history integral to the artwork, as Oak Park was developed across from the DELCO Plant (Dayton Engineering Laboratories Company). Mutual Homes includes a lenticular patterning of relevant images including Charles F. Kettering, who co-founded DELCO, including a 1912 Cadillac Model 30, the first car to have an electric start, which Kettering developed; a light system created for farmers in rural areas by DELCO; and B-24 bombers, whose parts were manufactured at DELCO. In addition, Kistler facilitated hands-on workshops and conversations with children, residents and veterans to capture the values and spirit of the Oak Park neighborhood. The imagery embedded in the sidewalk are the words and drawings by participants.
This artwork was commissioned by the City of Kettering CitySites, a percent for art program.
Mutual Homes was made possible by the generosity and partnerships with many Kettering residents and organizations, including the Oak Park art selection committee; Tim and Martha Baxter; Kettering's Cities of Service and Art in Public Places committees; Greenmont Oak Park Community Church; Greenmont Elementary School and the PTO; VFW 9927; and Dayton History. Our appreciation to the City of Kettering Engineering Department, the Parks, Recreation and Cultural Arts Department, and Mayor Patterson and the Kettering City Council.  Support for this project was made possible by CitySites, the Community Foundation for Kettering and the Ohio Arts Council.
View and download more information.