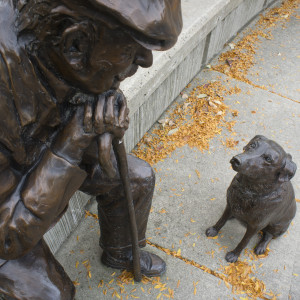 Glenna Goodacre
Old Man and His Dog, installed 2007
Bronze
Location: Lincoln Park Civic Commons
Old Man and His Dog is from Glenna Goodacre's series entitled Park Place from an edition of 16.
Goodacre choose her models for her sculptures from people she knows around her hometown of Santa Fe, New Mexico.  The dog in Old Man and His Dog was modeled from a mixed lab owned by Glenna Goodacre's business manager; the old man was modeled after Don Blair, a 90-year old Santa Fe resident.
Nationally recognized, Goodacre is most well-known for her representational bronze sculptures including the Women's Vietnam Memorial in Washington D.C.  and the Sacagawea dollar coin design commissioned by the United States Treasury Department.