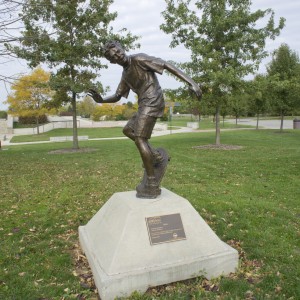 Glenna Goodacre
Ollie, installed 2007
Bronze
Location: Rob Dyrek /DC Shoes Skate Plaza
Ollie is a larger-than-life skater frozen in a skate maneuver of the same name. This bronze piece is from Glenna Goodacre's series entitled Sidewalk Society and is an edition of 5.
Nationally recognized, Goodacre is most well-known for her representational bronze sculptures including the Women's Vietnam Memorial in Washington D.C.  and the Sacagawea dollar coin design commissioned by the United States Treasury Department.