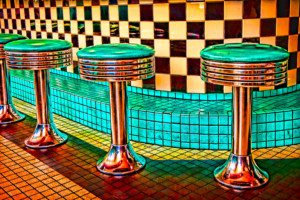 October 17 – November 18, 2016
Reception: Thursday, October 20, 6 – 8pm
Photographer Terry Glass of Tipp City is exhibiting a series of photographs entitled Route 66: An Artistic Journey. Inspired by The Mother Road, a book by Michael Wallis, Glass made this body of work during two separate trips to the iconic former highway in 2011 and 2012.
"After the road was decommissioned as a Federal Highway in 1985, there developed an interest by many in the nostalgic aspect of 'the Main Street of America.' This gave me the idea of travelling all 2448 miles and documenting some of the famous places enjoyed by so many people over the years," Glass said, regarding his interest in the project. "By averaging 100 miles a day this allowed myself to enjoy the history, talk to people, and photograph."
Having retired from a career in engineering, sales, and marketing communications in the electric motor industry, Glass now pursues his life-long interest in photography for leisure. He works primarily in black and white and alternative processes.