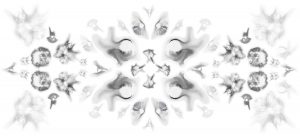 Virginia Kistler
Fungal Impressions
April 16 – May 18, 2018
Opening reception: Thursday, April 19, 6-8pm
Free and open to the public
Columbus-area artist Virginia Kistler investigates the ubiquity of urban landscapes and their absence of biodiverse spaces as she seeks to understand the intersection of urban growth and the natural landscape. "I mine impressions that are unseen and ephemeral to create sculptural forms," Kistler says of this body of work. "Derived from urban spaces, flora, and fauna, I create dimensional compilations in an attempt to look at their relationships in a different context." Kistler's exhibition is titled Fungal Impressions.
Virginia Kistler was born in Newcomerstown, Ohio in 1976 and attended The Ohio State University and the Columbus College of Art and Design. She is an interdisciplinary artist working primarily in sculpture and photography while using a variety of media—laser cut rubber, CNC router-cut plastic, and 3D printed plastic. She has shown work nationally and internationally and has been commissioned by the Lincoln Motor Company, the Dayton Metro Library, and the cities of Columbus and Kettering to create permanent works of sculpture. Kistler lives and works in Gahanna, Ohio.
Kistler is also the creator of an upcoming addition to the City of Kettering CitySites Public Art Program. Kistler's artwork is the inaugural piece in the ArtLocal program, an initiative utilizing art and creative thinking in localized public spaces throughout the city of Kettering. The dedication will take place in June 2018, in Oak Park, Kettering.