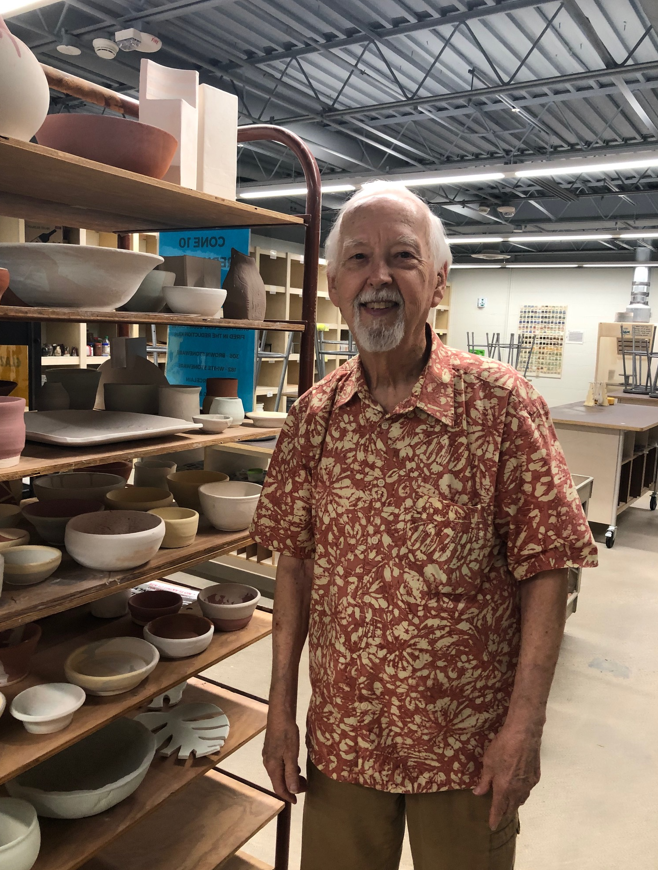 Studio Star at Rosewood Arts Center: Don Williams
My name is Don Williams and I am a retired architect who now builds with clay. I have been involved with Rosewood since 1984. I am originally from Troy, Ohio. I became a Kettering resident in 1962. I have two sons and four grandchildren. My wife is now deceased.
After I became the Chief Building Official for the City of Kettering. I was soon invited to join the Kettering Arts Council and was the president of that group for four years. My wife and I both attended workshops at Rosewood. In 1984, I retired from architectural practice and became very active at Rosewood. I took classes in wheel throwing and hand-built ceramics.
Rosewood has been a home away from home for me. Over the years I have seen many changes in staff, but they have continually been very knowledgeable and very friendly. They are nice people to be around. The renovated clay studio is "state of the art." I look forward to the completion of the renovation. The city and the art community are very fortunate to have such an accessible and outstanding facility here. Taking advantage of Rosewood's open studio program, I have been handbuilding ever since. My work has been juried into 18 exhibits at the Rosewood Gallery.
I became a Rosewood volunteer and for 18 years acted as the coordinator for Art on the Commons. When I first retired, I started having lunch on Thursdays with a fellow artist and employee from the city. When the city building was remodeled, we lost our meeting place and started meeting at Rosewood. Our meetings went online and became the start of Art Lunch.
Join Don at Rosewood Arts Center for Art Lunch on the second and fourth Thursday each month from Noon to 1 p.m. Join fellow artists and art lovers for a casual lunch get together. Share current projects, collected works or art stories. Bring a lunch and your love of art!
This interview has been brought to you by the Kettering Arts Council.