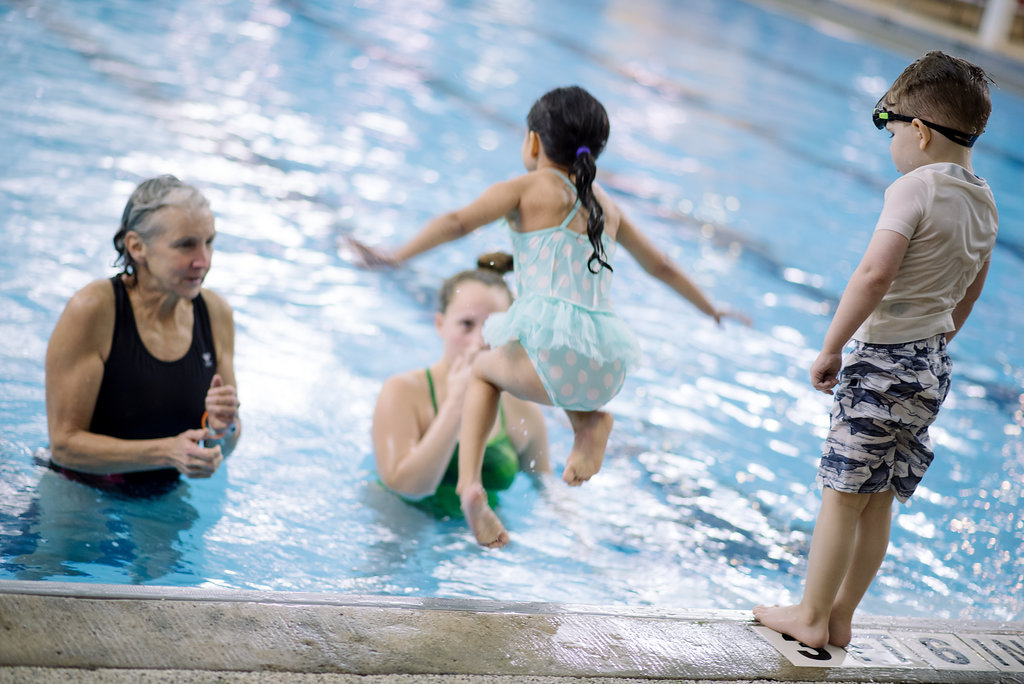 The most basic of the essential water safety skills is simply entering and exiting the water. It is important to practice getting into and out of the water with young children.
New swimmers need to learn how to adjust to the water as well as safe techniques for getting into and out of the water. Even warm water pools are much cooler than bathwater. Physical adjustment to the water temperature can help hesitant or fearful participants feel more confident and comfortable. To adjust to the water, you can sit on the edge of the pool or enter to thigh depth using a ladder, steps, or ramp, and begin to scoop water onto your body.
It is possible to lessen anxiety of hesitant or fearful swimmers by concentrating on slow, deep, regular breathing. Mimicking how a person breathes when they relax before entering the water can have a calming effect.
Teach non-swimmers, toddlers, and preschoolers to enter the water on a chosen cue such as "1, 2, 3!" or "ready, set, go!" This will help them to learn not to enter the water until you are ready for them to do so.
Beginning swimmers should only enter the water feet first (always enter shallow water feet first!). The best method to enter depends on the body of water and your surroundings. In most pools this can be done using a ladder, steps, ramp, or entering from the side. When using a ladder, it is important to enter/exit the pool facing the ladder. This will help to prevent slipping or falling off the ladder.
Try to avoid "scooting" into the pool from the side while facing the water, especially in water of unknown depth, or where you cannot touch the bottom.
To enter safely from the side:
• Sit down with your feet in the water
• Place both hands to one side of your body and slowly roll onto your stomach
• While holding onto the side of the pool, slowly lower your body into the water
To exit from the side:
• Face the deck or side and place both hands on the wall
• Push down to lift your upper body out of the water, place a knee or foot onto the side, and then climb out
Those with less upper body strength can:
• Pull themselves up to their elbows, then onto their stomach
• Put one leg up on the side and continue to climb out of the water