Juneteenth: Celebrating Freedom
4:00pm - 7:00pm
Lincoln Park Civic Commons
675 Lincoln Park Blvd., Kettering, OH 45429
---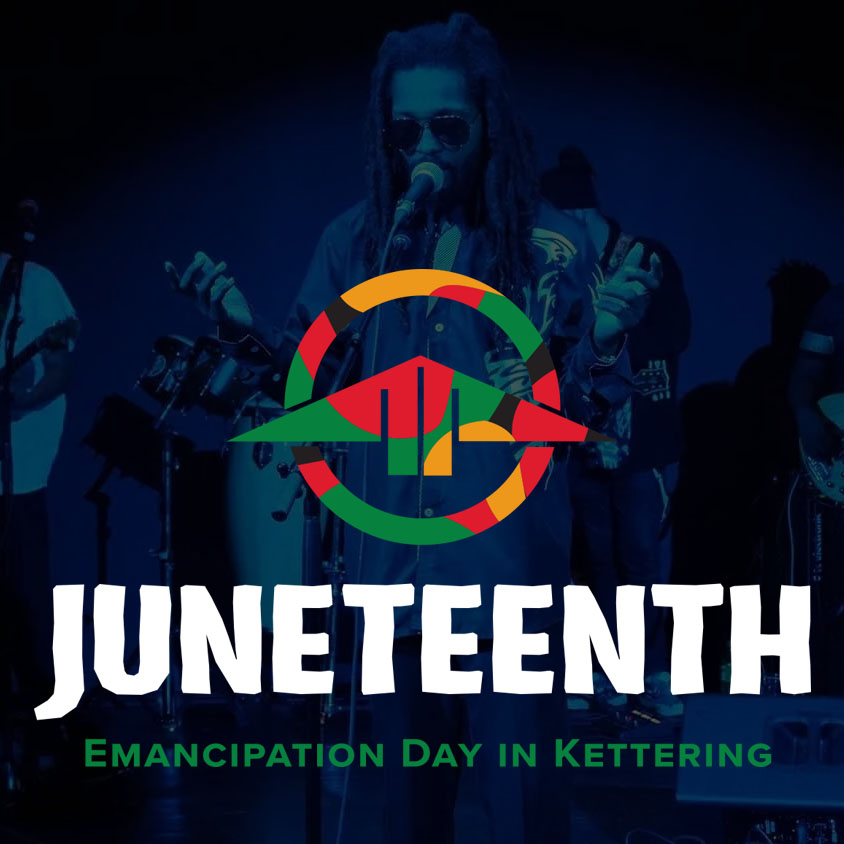 MONDAY, JUNE 19, 2023
4:00 PM – 7:00 PM
Featured Program 5:00 – 6:15 PM
FREE ADMISSION – Open to the Public!
Gates open at 4:00 PM
Presented by the Kettering Board of Community Relations and City of Kettering Parks, Recreation & Cultural Arts
Join us for Kettering's Second Annual Juneteenth Celebration! This free, family event features live music from Luv Locz Experiment, food trucks, local vendors, crafts for children and an inspiring, informative keynote address by historian and TEDx Talk presenter Faheem Curtis-Khidr.
Luv Locz Experiment
4:00-5:00 PM, 6:15-7:00 PM
This Dayton-based, reggae-infused, funk'n soul band brings a unique sound and the perfect energy to the celebration. From original music to their own twist on favorite tunes, you'll be transported to the islands to dance your troubles away!
Luv Locz Experiment website
Luv Locz Experiment Linktree
Faheem Curtis-Khidr
5:30-6:15 PM
A hit at Kettering's first Juneteenth celebration in 2022, Faheem Curtis-Khidr delivered a personal, compelling presentation that brought history home to our community. Faheem is a tenured faculty member and Equity Fellow at Sinclair Community College. His local research project on West Dayton's Hog Bottom neighborhood has been recognized and showcased at the REACH Conference, The National Afro-American Museum & Cultural Center, and by the Association for the Study of African American Life and History. Faheem has provided equity trainings and presentations, including a TEDxDayton Talk on the need for equity in the university experience.
PLUS:
Local Minority-Owned Businesses, Arts & Crafts, and more:
Chicken Heads Ghost Kitchen
The Cookieologist
Pooter Mae
Seven Spa
Vegan It Iz Eats
Evolv U Fit Academy
Dayton Fit Lab
MacBrand Clothing
Welcome Home Dayton
The Art of Yetunde Rodriguez
African American Visual Artists Guild (AAVAG)
Dayton Metro Library Bookmobile
Food Trucks:
iQuisines – freshly made-to-order stuffed chicken & waffles and dessert waffles
De'Lish – Dayton's Best Creole, Cajun and Soul Food
Diamond Daiquiris – delicious sno-balls and daiquiris with homemade syrups
Scooby's BBQ
Student Winners of the 2023 MLK Jr Essay Contest