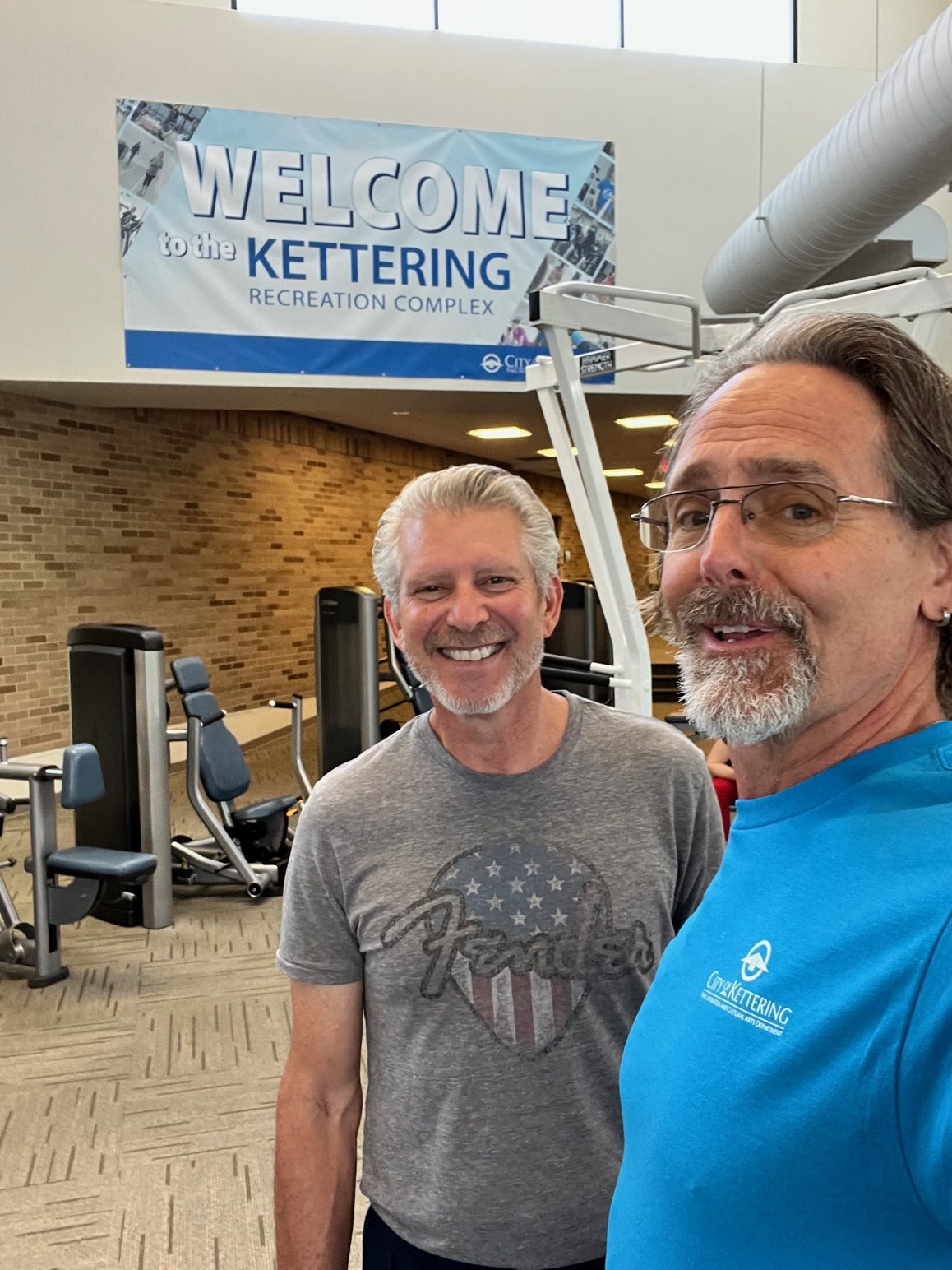 Happy Friday! Today's featured fitness patron is Pat Stewart, who began his fitness journey with us in January. Pat has been working with personal trainer Greg Jankowski (pictured with Pat, above) to improve his overall fitness level after overcoming some surgeries and health issues. "I have only worked with Greg for 6 months, so I may not be in the best shape of my life yet, but I'm confident that before I turn 61, I will be!" Pat said. Congrats on all your progress, Pat!
Tell us about yourself and how long you have been a member of the Kettering Recreation Complex.
I am a lifelong resident of Kettering and recently retired after 37 years in the automotive industry. I will turn 60 in June of this year. At the beginning of this year, my wife and I decided to make a stronger commitment to our fitness and purchased memberships to the fitness center.
What personal obstacles have you overcome and how did our fitness facilities help you through?
Due to some health issues over the past 5-10 years, some that required significant surgical procedures, I had been unable to pursue a workout regime. As I progressed through my 50's, I was able to stay in fair shape, but didn't have the strength or muscle tone I wanted. I am now in a better health condition to start working out again, and was excited to take advantage of the tremendous facilities offered at the recreation complex. I just started my workouts in January and already realize major improvements in weight loss, muscle tone, strength, balance and overall energy.
Do you have any personal health and fitness goals, won a competition, etc.?
I met Greg for the first time in January and he developed a fitness plan for me based on my goals, but also very carefully designed around the limitations of my spine and neck. My goals were pretty simple: be in the best shape of my life at 60 and increase my strength to allow me to pursue my passion of gardening and yard work. I have only worked with Greg for 6 months, so I may not be in the best shape of my life yet, but I'm confident that before I turn 61, I will be!
Is there anything else you would like to add?
I never really expected to become involved with a professional fitness trainer. I took advantage of the great opportunity the recreation complex provides to Kettering residents and spent time with Greg to see if it was something he and I felt was worth pursuing. Without question, it has been! The knowledge he has, and the focus he brings around balance, flexibility, strength/tension relationships, and total body fitness has been a game changer for me. While not everyone needs or wants this level of expertise and support, I would encourage any Kettering resident that wants to improve their physical fitness to take advantage of what the recreation complex has to offer.