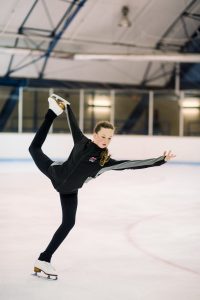 Kettering Ice Arena Spotlight: Daphne, age 13, figure skater
Curious about the people who practice at Kettering Ice Arena? We're catching up with our figure skaters and hockey players to learn why they love their sports, how they practice and more fun facts. Check out our first interview below.
What's your favorite thing about skating?
My favorite thing about ice skating is that the sport is so unique and because it is so unique I make others want to do it as well!
How often do you skate?
I often skate Mondays, Tuesdays, Saturdays and Sundays. My lessons are Mondays and Tuesdays with my coach, Lisa Reibly.
What level are you skating at right now?
The level I am skating at is preliminary, and I am testing [to move up] in November!
What do you hope to achieve with skating? What level are you working towards?
I hope to achieve to be on the Miami University Synchronized Skating team, and I am currently working towards Pre-Juvenile.
How do you move up to new levels?
To move up to new levels, you must test for a panel of judges, and each judge will either give you Retry or Pass.
[These levels are set by the US Figure Skating Association and are:  Pre-Preliminary, Preliminary, Pre-Juvenile, Juvenile, Intermediate, Novice, Junior and Senior.]
What jumps can you do? What's your favorite/best move?
Jumps I can do are loop, waltz loop, flip-toe loop, and I am currently very close to landing my Axel! My favorite/best move is a Biellmann spin, where I bring my foot over my head and spin.
What music do you use for your program? Do you have a favorite program you've ever done?
The music I am using for my program is "City Of Stars" from the musical La La Land. My favorite program I have ever done is "We Go Together" from Grease.
What kind of skates/blades do you have? How often do you replace your skates and get the blades sharpened?
The kind of skates I have is Reidell boot with parabolic skate blades. I replace my skates once I grow out of them like you would with any shoe, and I get my skates sharpened about every four months or when the blade feels dull.
What kind of other equipment do you take to the ice arena with you?
Other equipment I take to the rink with me is my skating bag, which is a Transpack backpack that is designed for ice skates.
How did you get started skating? How old were you?
I got started skating when I was three and my parents just took me to the rink and put me on the ice and they skated with me at open ice.
Is it ever hard to balance skating and school?
Sometimes it can be very difficult balancing school and skating due to projects or going to practice right after school and having to do homework late at night, but it's definitely worth it.
Do you do any off ice training or take ballet/dance classes?
Growing up, I took ballet classes, so that helped with flexibility. Now I do off the ice to help perform the skating move slower and concentrate.
Who are your favorite ice skaters? Who do you think will win the Olympics figure skating?
My favorite ice skaters are Gracie Gold, Ashley Wagner and Charlie White. I think Gracie Gold will win the Olympics because she is driven and has the endurance to win.