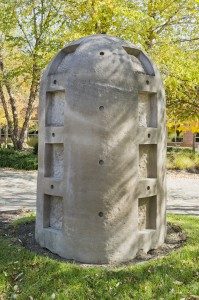 Terrestrial Formation
Indiana Limestone
Location: Governor's Place
Spanish artist Irma Ortega Perez completed her 16,800 pound stone, "Terrestrial Formation" as a part of 2002's Kettering Rocks! stone sculpture symposium. "Terrestrial Formation" is located in Kettering's Governor's Place off Dorothy Lane at the corner of Kettering Boulevard. Perez has spent years developing a series of formations on the growth and development of urban centers and the sewer systems, particularly in her hometown of Mexico City. The stone itself reflects the growing formation of a sewer grate, evolving to this beautiful and symmetrical elongated shape. The repetition of the colorful pavers and rolling mounds of precision planting in the park was designed to reflect the flow of water or a river.
Irma Ortega Perez was born in Mexico and currently resides in Valencia, Spain. Irma received her certificate from the National School of Plastic Arts in Mexico City, Mexico. She received a Master's Degree in Sculpture from the Division of Studies of Graduate's degree in San Carlos, Mexico. Irma was also awarded a full scholarship for a Doctorate degree in Twentieth Century Sculpture at the Polytechnic University of Valencia, Spain, which she completed in 2001.
Perez has received numerous honors and awards throughout Mexico and Spain. She was awarded a scholarship of artistic production from the Young Creative National Fund for the Culture and the Arts in Mexico City and a scholarship for Foreign Students in Valencia Spain from the Spanish Agency of International Cooperation. Irma Ortega Perez was chosen to participate in numerous international symposia in countries such as Mexico, Austria, Cuba, Germany and Spain. Her work has been commissioned and collected both privately and publicly in Mexico and Spain.