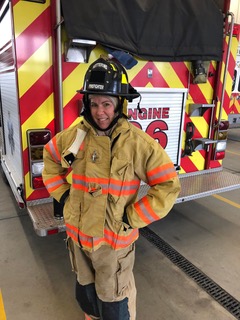 Today, we continue our month-long series of spotlights in celebration of National Park & Recreation Month and 2022's theme, We Rise Up For Parks & Recreation.
Kettering Arts Council member Tracy McElfresh is a beloved and very active member of the Kettering community! Not only has she served on the KAC for several years, but she also operates her sewing business, Tracy's Sewing Studio, out of Rosewood Arts Center and recently completed the Kettering Leadership Academy! The KLA is a nine-month program for participants to enhance their leadership skills, broaden their understanding of community issues and become a resource for leadership opportunities in Kettering.
We recently caught up with Tracy about her experiences serving Kettering!
What types of activities did KLA involve and what you did you gain from the experience?
Kettering Leadership Academy (KLA) was so much more than I expected. When it was recommended I apply, I wasn't sure what a "leadership academy" really was. I applied anyhow. By the time I was interviewed, I had become interested in knowing if I was already considered a leader by myself or others, and also if what I expected to gain from becoming a leader would bring anything new to the table. The KLA helped me recognize that I am a leader and opened doors on how to use my leadership skills to bring more to my own life and the life of my community. A win-win!
The KLA team is led by the Kettering Volunteer Department and meets for one full day on a monthly basis with themed events including:  Government Day, Service Day, History Day (my fav), and First Responder Day (second fav). Another truly enjoyable aspect is getting to know sixteen people from different areas of Kettering. Each one with their own diverse views, ideals and motivations to drive our community, all coming together for one common purpose.
What have you been enjoying lately about serving on the Kettering Arts Council?
Kettering Arts Council (KAC) is my jam! Through volunteering for the city, I get to meet so many cool artists that enrich our community. I have learned to recognize how privileged we are to live in a city that values and cultivates art. You can catch the KAC in action at the Kettering Block Party, Art on the Commons, Art on the Playground, A Rosewood Holiday and all of the open Rosewood Gallery exhibitions.
What else have you been up to in Kettering this summer?
Personally, I really enjoy the community of offerings found in Kettering. We have a lot of features locally including our exercise facilities (I love the group classes where I am learning to loosen my inhibitions), some wonderful local restaurants, our beautiful parks, and of course our bike paths and cycling routes. Catch me online @tracysews and @juicymelt for local updates and adventures!
Thanks for chatting with us, Tracy, and thanks for all you do for Kettering!