HWD (Height x Width x Depth) Invitational Sculpture Exhibition
August 17 – September 25, 2020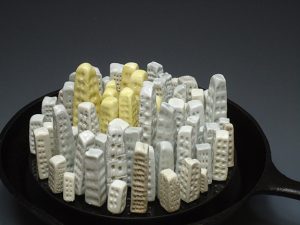 Rosewood Gallery in Kettering, Ohio is pleased to announce the HWD (Height, Width, Depth) 2020 Invitational Sculpture Exhibition taking place from August 17 through September 25, 2020. Twenty-four Dayton-area artists who have participated during the past ten years in Rosewood Gallery and the CitySites public art program were selected. Featuring recently created three-dimensional artworks, HWD is on view in-person at Rosewood Gallery, as well as in a virtual gallery.
The following artists will be at the gallery to talk with visitors about their work – Bob Coates on September 10 from 6-7 p.m. and Glenda Miles on September 16 from 12- 2 p.m.
Rosewood Gallery has reopened to the public. Visit our COVID-19 info hub for updated safety information. Several recent exhibitions are available to view as a virtual gallery. Take the tour.