Rosewood Arts Centre's fifth annual Art on the Playground was "definitely the best to date," said Cultural Arts Program Supervisor, Andrew Dailey. Drawing a crowd of 450 art enthusiasts of all ages, the event featured 14 activity stations with projects like mask-making, pottery, fiber arts and origami.
The first-ever Art on the Playground won second place for the Ohio Parks and Recreation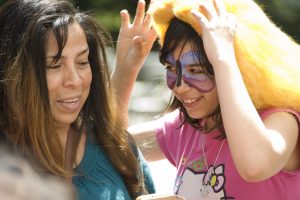 Association's Best Special Event, and it has continued to grow ever since. It has even evolved into a partnership between Rosewood and the Habitat Environmental Education Center, where the event is now held. "It has been a wonderful experience discovering the benefits to our residents of combining art with science and nature," said Habitat coordinator, Kerri Miles.
Community partners, the Miami Valley Dance Company, Chalk N' Awe, the Dayton Metro Library, the School of Advertising Art and Kettering Children's Theatre rounded things out with live performances and creative activities. The Kettering Arts Council was also on hand. "This was my first year volunteering at Art on the Playground," said arts council member, Tracy McElfresh. "We had lots of children eager to get their hands on supplies and make masks at our booth. It was fun to watch their creations and meet people in my community.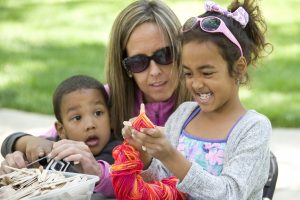 Kettering's brand-new, mobile STEAM education initiative, Kaleidoscope: Art and Nature on Wheels, made its maiden voyage at Art on the Playground. Kaleidoscope is set to journey onward to more events this summer, plus travel to a different Kettering park every Wednesday for a series of day camps.
"A big thank you goes out to all those who attended and made the event a success. "The weather was perfect, and the location suited the event and crowd well," Dailey said. "Lots of kids were making art and having a blast. It was great to see so many new faces, but there were also a handful who have attended the event every year since the beginning. Seeing the event go so well this year was the perfect way to celebrate AOTP's fifth anniversary."