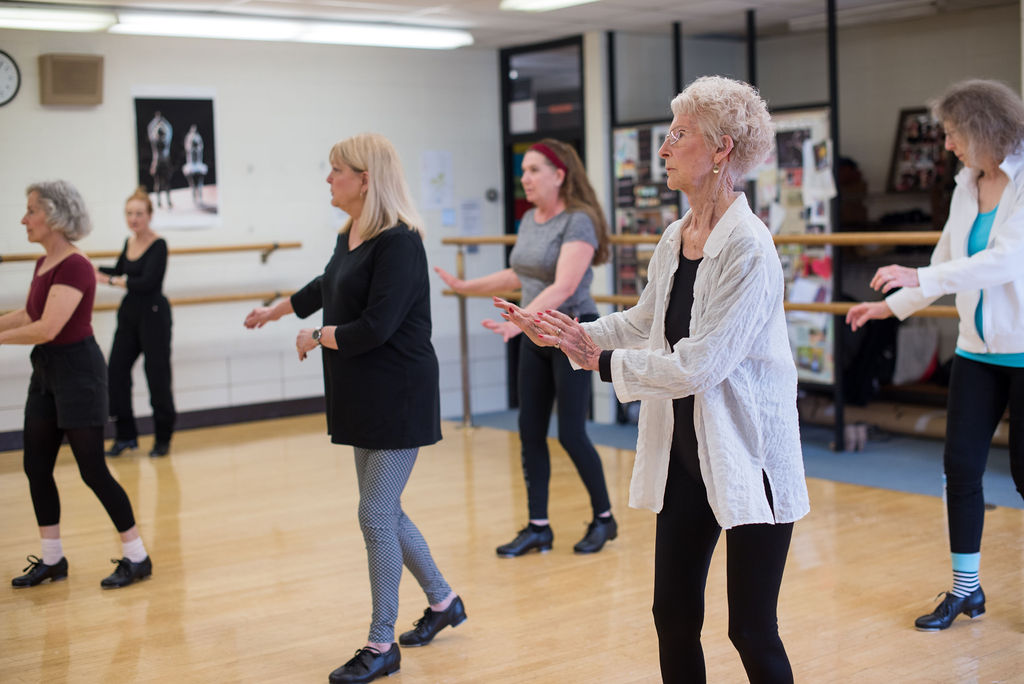 If you're at Rosewood Arts Centre on a Wednesday morning, you'll hear the sound of tapping feet from the dance studio. Led by Sammie Sue Edmondson, this enthusiastic group of dancers taps to everything from 'Uptown Funk' to 'Singing in the Rain.' The atmosphere is always friendly with a mix of longtime and new students.
"We always have fun," said instructor, Sammie Sue Edmondson. "These ladies are great."
Student Cherie says her long drive to class from Greenville is worth it. She's new to tap, although she's not new to dance. "I wanted to try something new, and this looked like fun," she said.
The environment is not competitive, Sammie Sue explained, and she keeps the classes low pressure and focused on enjoying creative movement with a welcoming group of people.
"The returning students help the new students learn the moves," Cherie said.
Aside from fun and friends, the main reason participants said they love to tap dance? The workout!
"Tell everyone that 89-year-old ladies can still dance," said participant Audrey, who has taken classes with Sammie Sue for many years and calls herself 'the grandmother of the group.' "I love it. It's a lot of fun and a lot of exercise while we laugh together."
"I'm dancing to improve my health as I get older," Cherie said. She uses ballet classes to increase her strength and enjoys the cardio benefits of Adult Tap Dance.
The class is definitely energetic – students practice several dances within the 45-minute class period and work up quite a sweat. Some participants dance with minor modifications or sit out for a dance when needed. Of course, there's plenty of encouragement, chatting and comraderie between dances.
"I really enjoy the friendships," said student, Michelle. "We've gone out together for ice cream, had tea, celebrate Christmas at the end of the year, and meet up over the summer [when class is not in session]."
If you're looking for a fun way to get moving, enjoy music and make friends, check out Adult Tap Dance at Rosewood! The class is open to both men and women ages 16+ and meets Wednesday mornings from 11 – 11:45 a.m. Visit Rosewood's homepage to learn more about adult dance classes!