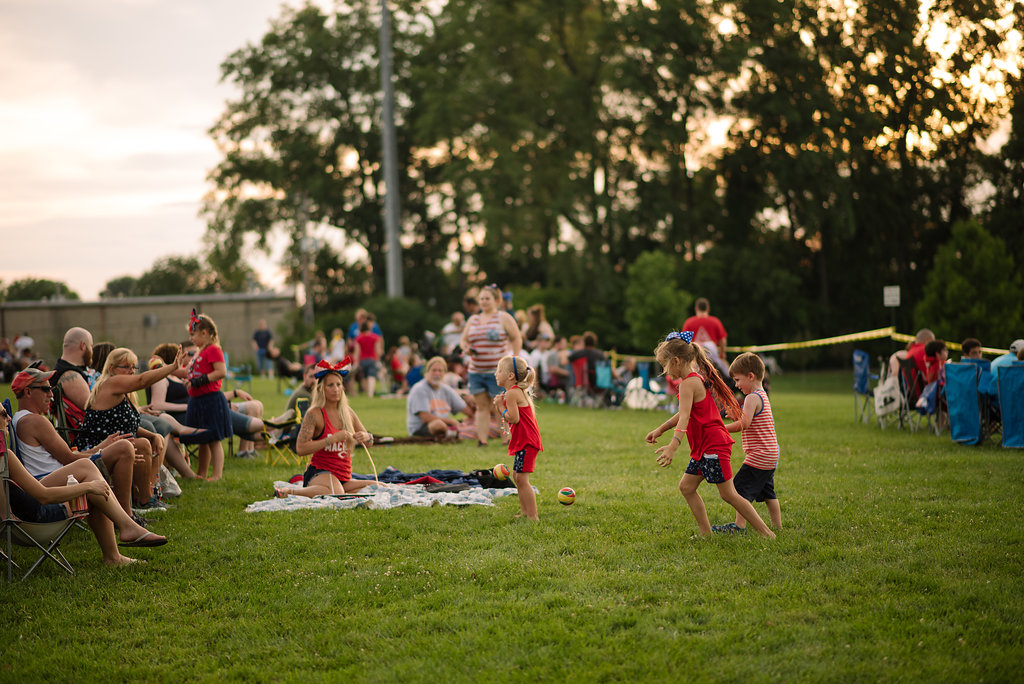 The Fourth of July is all about celebration, whether you're enjoying a backyard barbecue or partying at Kettering's Go 4th! No matter how you choose to wish America a happy birthday, no one wants an accident or injury putting a damper on the fun. We've got you covered – read on for our top tips for keeping everyone safe.
Stay Hydrated and Sun Safe
Having a healthy, happy 4th starts with drinking plenty of water. If you're going to be outdoors in the heat, getting enough liquid is essential. Provide a cooler or pitcher with water at picnics, and bring a large, refillable water bottle along with you to events. Choose water over energy drinks and soda – these contain added sugars and caffeine, which will dehydrate you faster. Don't skip the water – dehydration is no fun and can lead to dizziness, headaches, loss of consciousness and issues with the heart and blood pressure.
Anyone spending time outdoors should also slather on the sunscreen and reapply often according to package directions. Wear light-colored clothing (red, white, and blue, of course!), a hat and sunglasses.
Grill with Caution
According to the National Fire Protection Association, July is the peak month for grill fires. Don't let a grill fire or a burn put an end to your fun. Keep kids and pets at least three feet from the grilling area and never leave it unattended.
Use barbecue grills outdoors only and follow all manufacturer recommendations for use. Choose a spot with nothing overhead and that is not close to your home or other structures. Keep your grill clean and inspect it for any leaks or other issues before using. Get the NFPA fact sheet for more on staying grill safe.
Respect the Fireworks
What's the best way to handle fireworks? Leave them to the pros! According to information provided by the Kettering Fire Department:  "The only firework products permitted in Ohio for use are designated "trick and novelty" – such as smokes, sparklers, snaps and snakes. Keep in mind that even trick and novelty fireworks can cause serious injury." (All fireworks, including 'trick and novelty' and sparklers are prohibited at Go 4th! – don't worry, we've got the fireworks part covered.)
Still intrigued by backyard sparklers? Consider this – "Sparklers burn at 1200 degrees and can cause third-degree burns. Fireworks start an average of 18,500 fires per year. These fires cause an average of three deaths and $43 million in property damage."
Don't firework at home – join us instead for one of the area's biggest and best displays set to an amazing soundtrack!
Food Safety is a Must
We all love a July 4 picnic, but spending July 5 sick with food poisoning? No, thanks. Warm weather creates ideal conditions for foodborne bacteria to thrive, so be sure to keep hot foods hot (above 140 degrees) and cold foods cold (below 40 degrees). Store raw meat separately – don't cross contaminate produce or cooked foods with the juices from raw meats. Wash produce before consuming – even produce with rinds like watermelon.
Don't forget to pack soap and hand sanitizer – just because you're cooking outdoors doesn't mean you shouldn't follow the safety procedures you follow in the kitchen. Cook with clean hands and use clean dishes and utensils. For more details on picnic safety, the US FDA has a great guide.
Be Water Wise
Backyard pools, public pools, natural waterbodies – these do a lot to make our parties more fun. They also add a serious need for safe behavior, especially if there are children at the party. Designate someone to watch the water at all times and rotate the position among the adults. Be sure everyone who goes into the water is comfortable there and that everyone has any needed safety equipment such as life jackets. If you're heading out to Delco, keep a close eye on small children who may run for the pond. For more on water safety, check out our blog post with helpful tips.
Still looking for a way to celebrate Independence Day? Check out what's in store at Kettering's Go 4th! this year!