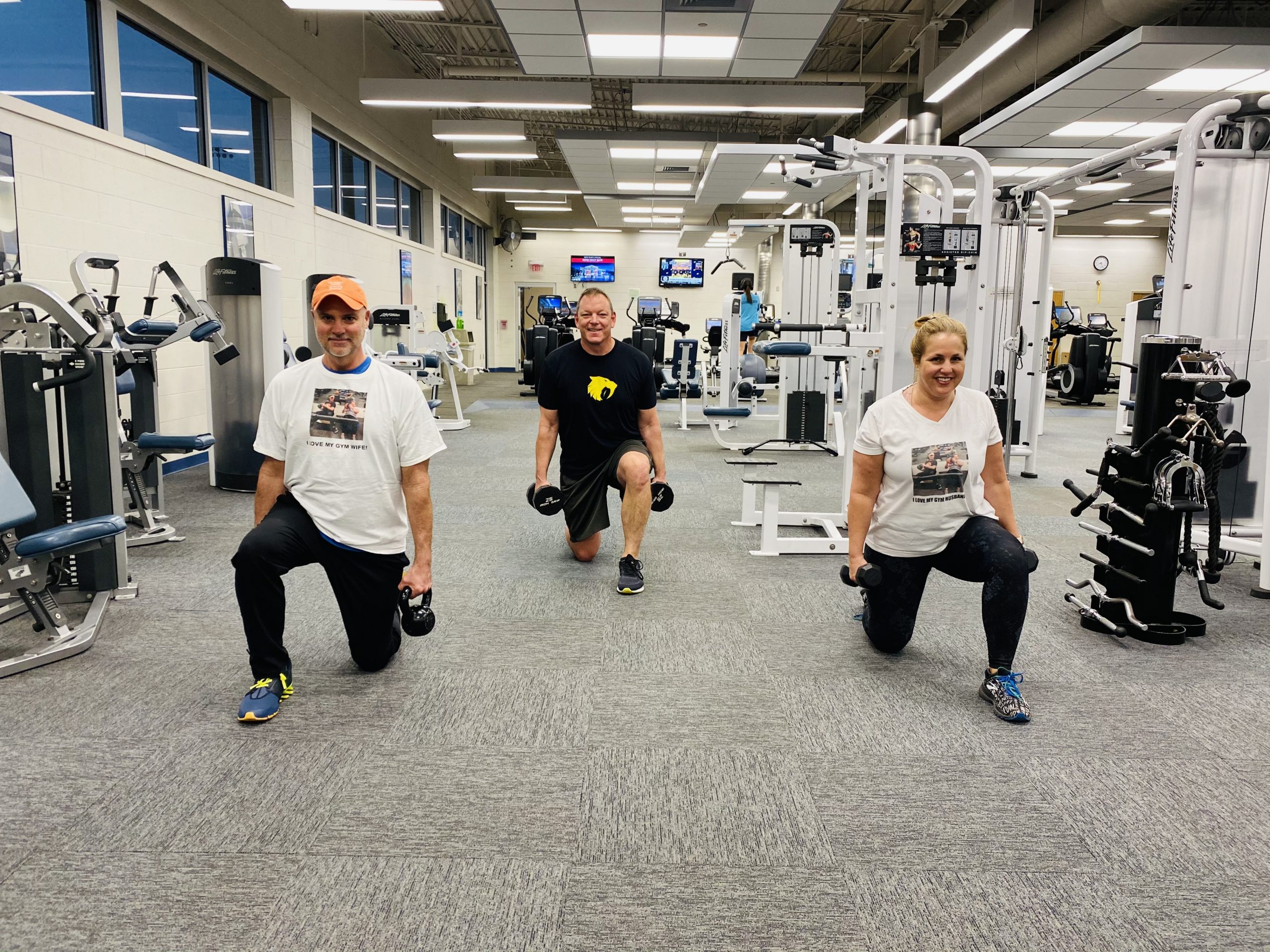 Featured image:  Paige and Jason Henry enjoy a workout with buddy Jey Ellis, even while staying six feet apart!
Fitness is always more fun with a workout buddy! No one knows that better than Paige and Jason Henry and Jey Ellis, who have been working out together five days per week for three years at the Kettering Fitness & Wellness Center.
Paige and Jason have been members of the KFWC for about four years, and Jey has been working out with us for a decade. All three love the sense of community that comes from working out at KFWC. "It's hard to name just one [favorite] thing," Jason said. "The staff is great, never have to wait for a machine, it's close to my home and the other patrons are very friendly."
Weight loss is a goal for each of them, as well as the desire to work out frequently and maintain an overall healthy lifestyle. Working out together is a key factor in keeping everyone motivated. "If I don't go, I catch a lot of grief from my wife and her gym husband (Jey Ellis), and it is easier just to go even on the days I don't feel like it," Jason said.
"My workout partner for sure [keeps me motivated]," Paige said. "I know he is counting on me to show up. It motivates me to get there, and it helps to get through the workout as well."
"There are two things I started doing throughout each week about 10 years ago," Jey said. "Working out at KFWC and helping stray animals at the Humane Society of Greater Dayton. A week never goes by without several visits to both, and both keep me healthy mentally and physically."
Aside from the sense of community and comradery they find at the KFWC, our spotlighted members enjoy its approachable nature. "I was raised in Kettering and run my business in Kettering. I was looking for a gym that offered corporate resident benefits for employees," Paige explained. "I had just left Crossfit and was nervous to be on my own. I was looking for a gym where I could continue what I learned. This gym is so approachable and inviting for every day residents."
Jason explained, "We moved to Kettering 4-5 years ago and changed gyms at that time. KFWC is close to our home and when combined with the other Kettering facility [Kettering Recreation Complex], offers a huge variety of fitness options at a relatively low cost. It was a great fit from day one and once my wife made friends with almost everyone in the gym, we were hooked. We love KFWC and will be members as long as we live in Kettering."
Thank you, Jey, Paige, and Jason for sharing your stories with us and for choosing KFWC!
Note: Please follow all health and safety guidelines for social distancing if you choose to work out with a buddy. Visit our COVID-19 information hub to learn how we're keeping patrons safe and find all Ohio Department of Health COVID-19 Guidelines at coronavirus.ohio.gov. Please consult your doctor before beginning any fitness program.