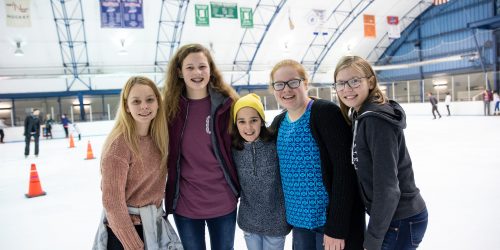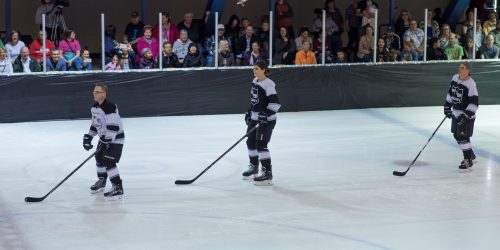 The Kettering Ice Arena has closed for the season. Thank you for another great year! Be sure to check out our new off-ice conditioning program this summer.
Kettering Ice Arena
Located inside the Kettering Recreation Complex, the Kettering Ice Arena is proud to host youth and adults involved in figure skating, ice hockey, ice skating lessons and leisure skating. The Kettering Ice Arena also has rental skates, lockers and a heated seating area for spectators. At various times throughout the week, we host open skates, freestyle sessions for figure skaters, private and group skate lessons and stick time.
For the safety of our customers and employees, we are taking a phased approach to re-open and will continue to evaluate the situation. Currently, we are offering:
•Select Specialty Open Skates (reservations required)
•Select Regular Open Skates (reservations required)
•Select Freestyle Skates (reservations required)
•Group ice skating lessons
•Private ice skating lessons
•Stick Time
How we are keeping you safe:
• Extra day time cleaning by ice arena staff and extra night time cleaning by custodial staff.
• Separate entrance and exit to allow for social distancing.
• Hand sanitizer available at facility entrance.
• Plexiglass barrier at the skate shop counter.
• 6 foot social distance markers for waiting lines and arena seating.
• Showers and drinking fountains are not available.
• No lost and found will be offered.
• Lobby benches will be spaced out 6 ft. and gatherings are prohibited.
• Participants are asked to arrive no earlier than 15 minutes for public skates, lessons or rentals.
Public Skates
• Limited capacity to encourage social distancing. Reservations will be required.
• Rental skates will be sanitized after each use.
• Limited rental lockers available to encourage social distancing. Patrons will be asked to leave all personal items in car.
Lessons
• Limited student to instructor ratios.
• Social distancing in place for group lessons.
Select Rentals
• Rental groups have been spaced out to limit the number of patrons in the arena at any given time.
• Patrons will be asked to leave all personal equipment in bag or car.
• Warm-ups should be done outside of the building, weather permitting.
• Locker rooms will alternate for each user group to allow cleaning of the other locker room when not in use.
Stick Time
•Building access is limited to 15 minutes before and after stick time.
•A 5 person maximum is allowed in a locker room at a time and showers are not currently available.
•Full hockey gear is required.
•The Kettering Ice Arena does not provide hockey equipment.
From time to time, the Kettering Ice Arena hosts special events, specialty skates or tournaments. These events may alter our normal schedule.
Ice Arena Daily Admission Rates

| | | |
| --- | --- | --- |
| Admission | Resident | Non-Resident |
| All Ages | $4 | $8 |
| CIL Member | $3.50 | $7.50 |

| | | |
| --- | --- | --- |
| Equipment Rental | Resident | Non-resident |
| Skates | $3 | $3 |
Season Pass Pricing

Passes may be used for Adult Skate, Public Open Skate and Youth & Home School Public Skate, and are valid September 8, 2020 through May 2021. Miscellaneous Drop-In admission (see above) applies for Stick Time and Freestyle.

| | | |
| --- | --- | --- |
| Ice Arena Pass | Resident | Non-Resident |
| Youth (17 and under) | $60 | $90 |
| Adult | $82 | $112 |
| CIL Member | $64 | $94 |
| Family (2 Adults, 4 Youth) | $186 | $270 |
---
Kettering Ice Arena
Questions on Hours, Pricing or Other Information
Contact the Kettering Recreation Complex at 937-296-2587
---