Water Activities for Fitness
Here to help you reach your fitness goals, we offer daily drop in and registered water fitness classes on a year round basis.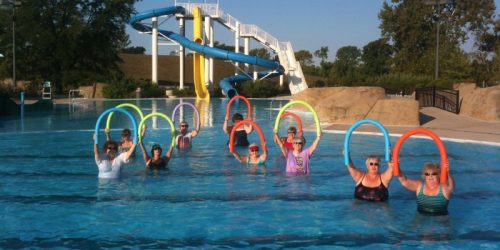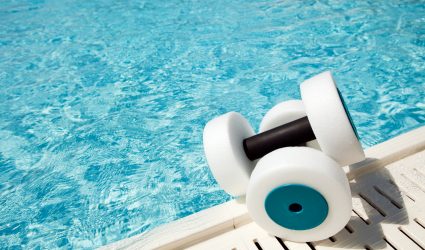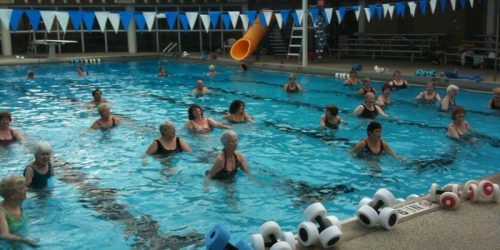 ---
Questions on Hours, Pricing or Other Information
Contact the Kettering Recreation Complex at 296-2587
---
Water Workout Drop-In Pricing
| | | |
| --- | --- | --- |
| Admission | Resident | Non-Resident |
| Youth (11-17) | $4.25 | $8.50 |
| Adult | $5.00 | $10.00 |
| Lathrem Member | $4.75 | $9.50 |
Water Activities for Fitness
We offer two types of drop-in water activities for fitness, deep water workout and shallow water workout.
Deep Water Workout
This is a basic deep-water class. Benefits include no impact,  improved flexibility, improved muscle strength and  cardiovascular fitness. Belts, hand buoys and noodles are provided.
Shallow Water Workout
This class consists of aerobic routines, stretching and toning performed in chest to shoulder deep water. Not only is this class fun and much less likely to cause injury, the natural buoyancy of the water makes even a beginner feel graceful and competent. The resistance from the water gives you a first-rate workout. No swimming skills necessary.
Water Workout Pass Pricing
Annual Water Workout Pass
Passes valid for one year from date of purchase. This pass gains you access to all open swim times in the Indoor Pool, Water Park, Water Workout classes and use of whirlpool, spa and sauna.
Annual Water Workout Pass
Resident
Non-Resident
Adult
$140 / yr.
$13.67 / mo.
$210 / yr.
$19.50 / mo.
Lathrem Member
$110 / yr.
$11.67 / mo.
$165 / yr.
$15.75 / mo.