Parks Updates
Lincoln Park Civic Commons Landscape Renovation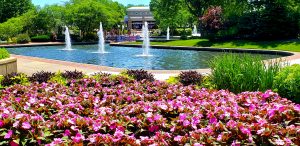 Renovations are beginning in April to breathe new life into a landscape that in some areas is 30 years old. The first phase will be complete in time for the beginning of the Fraze season in May. Keep an eye out to see new plants and flowers make their home in one of Kettering's favorite spots!
---
Ridgeway Bridge Landscaping
The new Ridgeway Bridge and its artwork are complete, so now it's time to add some landscaping to complement them. The landscape design incorporates native plant material found in surrounding neighborhoods and parks. The project is set to begin in Aril and be completed by mid-July. Check out how the bridge, artwork and landscaping really make this infrastructure come alive!