Parks Updates
  Parks Painting and Power-Washing
Parks Maintenance is conducting painting and power washing at the following parks during the last part of July/early August: Irelan, State Farm, Van Buren, Oak Park, Wenzler, Indian Riffle, and the pier at Delco Park. The parks will remain open, so please enjoy!
---
Gentile Park
The Gentile Park project has been approved to proceed in 2019, and planning efforts have begun to move the project forward. Re-evaluation of the current master plan has begun spring of 2019. The development of construction documents for the purpose of bidding the construction of the park will take place late fall of 2019 with a tentatively proposed construction of the park occuring late winter/early spring of 2020. Stay tuned for this exciting development!
---
 Delco Park Improvements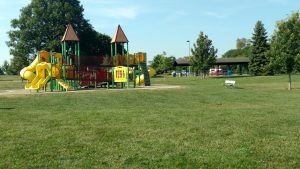 Delco Park (1700 Delco Park Dr.) will see numerous improvements this spring with the addition of the following:
•New signage at the corner of Dorothy Lane and Delco Park Drive and at the park entrance on Delco Park Drive (to match the new signage recently installed for the Recreation Complex on Prugh Woods Drive)
•Updated landscape improvements surrounding the park entrance at Delco Park Drive, SE and SW pedestrian entrances along Dorothy Lane and surrounding the concession/restroom facility.
•Hard-scape and ADA accessibility improvements at the concession/restroom facility and at the SW pedestrian entrance off Dorothy Lane.
•Fencing replacement to field #2
---