Welcome to the 33rd annual Art on the Commons festival! This year's hybrid event will be taking place from September 13 - November 20.  A weekly rotating exhibition will be on view in-person at Rosewood Arts Centre. New artist talks, demonstrations and studio visits will be available to view each week here in this virtual space. Each week will feature a different artist, so be sure to check back often!
We're excited to showcase the region's best ceramics, digital art, fiber/leather, glass, jewelry, mixed media, painting, photography, sculpture, works on paper and wood creations. Meet our 2021 Art on the Commons artists below and follow the links to shop their work!
View additional videos in our Art on the Commons 2021 Video Gallery
This week's featured artist: Sharon Stolzenberger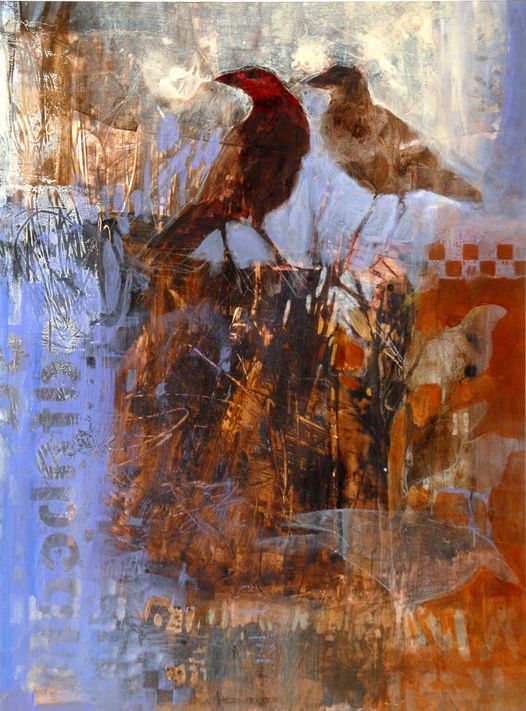 Artist of the Week, September 20 - 25: Sharon Stolzenberger

A longtime Art on the Commons artist, Sharon Stolzenberger creates densely textured paintings that incorporate her love of animals and nature. Using watercolors as her primary medium, she often will transform her compositions through collage, stenciling and patterning. The resulting artworks offer new narratives and emotional perceptions of her subject matter.

A former illustrator, Stolzenberger veered into creating art full time and exhibits her work frequently in arts festivals and through teaching. She wrote: "Nature and wildlife are recurring themes in my work in part because of environmental issues as well as the variety of shapes, colors and textures found in nature. Crows have been a muse and my work is becoming more experimental as a result of their graphic and rascally nature."

Stolzenberger is a graduate of the School of the Dayton Art Institute, and is based in Kettering and Dayton. She was an illustrator and art director for Gibson Greeting Card Company before becoming a full-time artist. She has traveled far and wide for her artwork inspiration, including to Peru, Africa, Nepal and India.

E-mail the artist to inquire about her work and purchase a piece
FAQ
Questions about our festival website? Drop us an email at aotc@ketteringoh.org! (Please note that we are unable to help with technical issues or questions regarding individual artists' websites.)
How can I support Rosewood Arts Centre?

The Kettering Parks Foundation supports the arts in Kettering. Learn more about the Foundation by visiting https://www.ketteringparksfoundation.org and clicking on 'donate.' Thank you!

I love what I bought! How do I share it with the world? Post your images in our thread on the Art on the Commons Facebook event page OR tag @playkettering on Facebook, Twitter or Instagram!
What portion of Art on the Commons is in person and what activities are virtual? For 2021, each artist's work will be on display in the Rosewood Arts Centre main office for one week (see schedule above for details). Artist demonstrations, talks, and interviews will be presented as prerecorded videos available through the festival website.
Thank you to our 2021 sponsors!

Our artist videos are made possible by the generous assistance of the Miami Valley Communications Council.