Have a Wild! Birthday Party at the Habitat Nature Center
Give your child and his or her friends a birthday experience that is fun and educational. Birthday parties can be scheduled at the Habitat Environmental Center in Kettering. We provide a nature host, themed activities, downloadable invitations and a kid-friendly service project. Enjoy our beautiful building and woodland trails on your child's special day. Call 296-2477 for more information.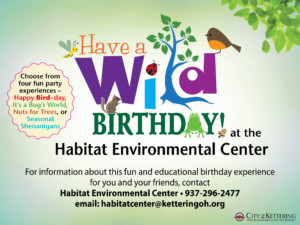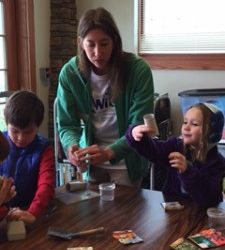 ---
Wild! Birthday Parties
Managed By: Habitat Environmental Center
For Questions or to Schedule a Wild Birthday Party Experience Contact:
Habitat Environmental Center
296-2477
HabitatCenter@Ketteringoh.org
---
Each two-hour experience includes:
Your choice of one of our four nature experiences;
A nature host for one hour;
30 minutes for cake and gifts, if you choose to bring them;
15 minutes to decorate and 15 minutes for cleanup;
A Habitat T-shirt for the birthday child;
Downloadable birthday invitations.
Your Nature Host will:
Read a book and do a craft related to your chosen theme;
Lead nature games and activities;
Lead a service project to "give back to the earth".
Details:
Appropriate for ages 3 through 12
One two-hour experience (includes one hour of programmed activities)
Fee: $150 for up to 15 children (parents and kids younger than two are free)

$50 down-payment due at time of reservation
Balance (including any add-ons) due the day of the event.
Down-payment forfeited if reservation is canceled less than 3 weeks prior to your event date
Add-Ons:
Third Hour: $50
T-shirts: $10 per guest (Additional shirts must be ordered at least 2 weeks prior to party date)
Each additional child: $10 (can be paid for the day of the party)
---
Birthday Party Themes
Happy Bird-day
Learn about our feathered friends for your birthday. These amazing flying animals are special in so many ways. We will go bird watching.
Service project: Make bird food garland/feeder (season dependent).
It's a Bug's World
Some people think insects are creepy. We LOVE insects here at the Habitat. Come and celebrate your birthday with some of our smallest friends and learn how important they are to the earth.
Service project: Based on the season, we will either plant flowers or make a home for insects.
Nuts for Trees
Trees are AWESOME! They give us oxygen and provide homes for many animals. We will definitely be hugging some trees for your birthday.
Service project: Plant or adopt a tree or seedling.
Seasonal Shenanigans
In every season there are mysteries to uncover in nature. We will explore what the animals and plants are doing during the season of your birthday…Spring, Summer, Winter, Fall…here at the Habitat, we love them all.
Service project: Seasonal, of course