Welcome! 2020 may be our 32nd year for Art on the Commons, but it's our first-ever virtual festival! Rosewood Arts Centre, through the City of Kettering's Parks, Recreation and Cultural Arts Department, with support from the Dayton Daily News, 91.3 WYSO, the Miami Valley Communications Council, the Ohio Arts Council, the Kettering Parks Foundation, The Joan W. McCoy Memorial Art Fund, and the Kettering Arts Council, is thrilled to present the Miami Valley's favorite juried fine arts festival, featuring the work of 81 talented artists from around the country.
Browse the virtual event to discover new interactive activities daily, to shop directly from our artist vendors and to vote for your favorite artist in our People's Choice Award.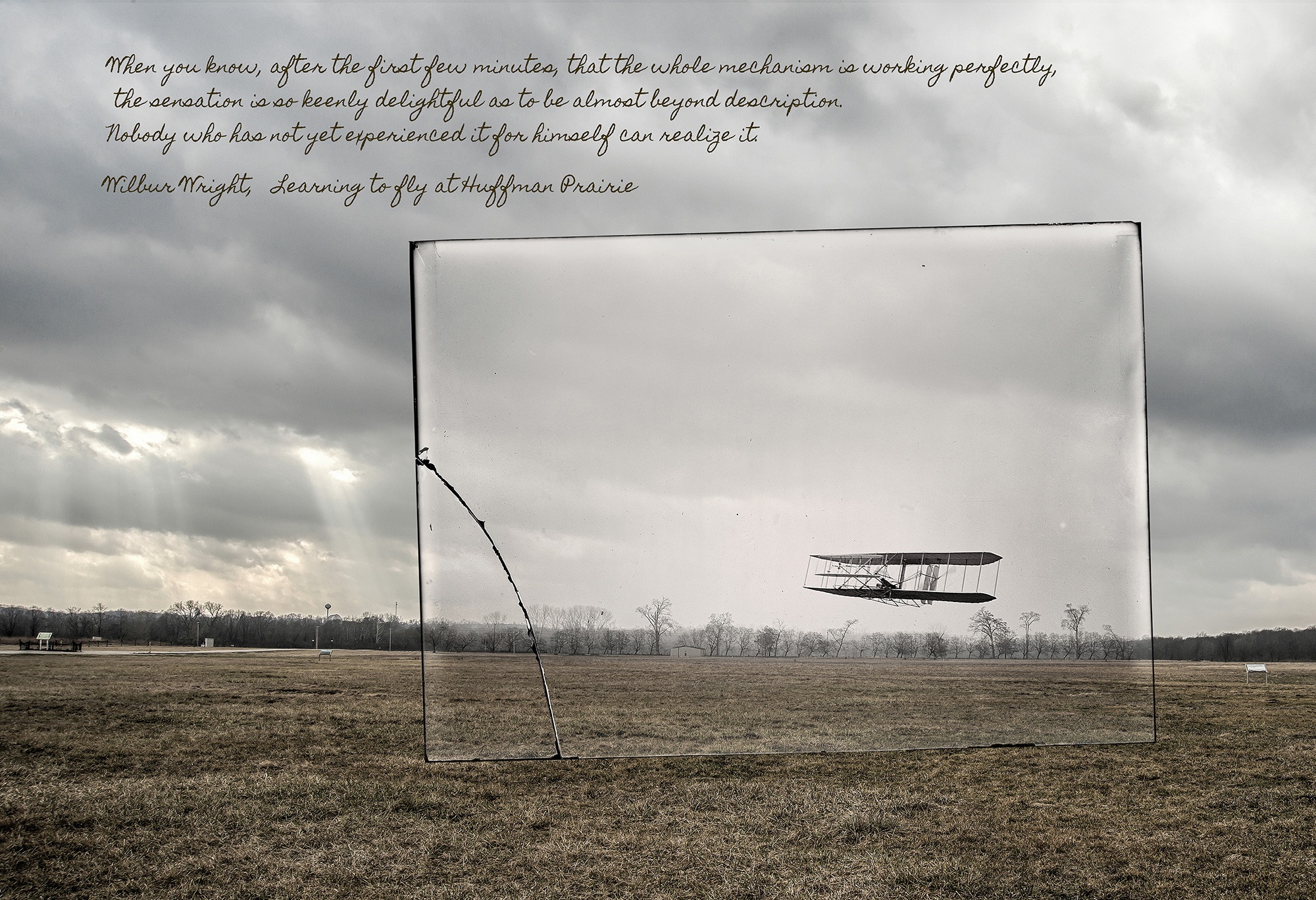 Featured artist, Dan Cleary
Congratulations to our 2020 featured artist, Dayton-based photographer, Dan Cleary!
Dan Cleary's photographic collages are about the varying visual representations of the past and the present. For his Wright Brothers: Then and Now series, Dan has traveled to locations where the Wright Brothers did their research and flight demonstrations to create modern images to go along with the historic photographs. This included many locations in Dayton, Kitty Hawk, North Carolina, Washington, DC, Detroit, Michigan, Le Mans and Pau, France. He has created images that are nostalgic in their desaturated overtones but enlivened by the presence of modern-day activities. Dan also includes a written narrative with each image to tie the past and present together.

Kate Wakefield: Miss Kate's Kids Songs
The Echodolls: No Reflection
Eleanor Dakota: No Love Of Mine
We are gathering on the virtual Excursions Stage at this year's Art on the Commons festival! 91.3 WYSO Excursions emcee Niki Dakota has been asking musical artists around the Miami Valley: "What are you making during the pandemic?" From August 6 - 9, the Art on the Commons festival will stream new songs from:
Hello Emerson
(August 6);
Shrug
(August 7);
Yuppie
(August 7);
Amber Hargett
(August 8);
Charlie & Amanda
Jackson
(August 8);
Kate Wakefield
(August 9);
Eleanor Dakota
(August 9) and
The Echodolls
(August 9).
View more videos and meet our artist lineup.
FAQ
Questions about our festival website? Drop us an email at aotc@ketteringoh.org! (Please note that we are unable to help with technical issues or questions regarding individual artists' websites.)
How can I support Rosewood Arts Centre?

The Kettering Parks Foundation supports the arts in Kettering. Learn more about the Foundation by visiting https://www.ketteringparksfoundation.org and clicking on 'donate.' Thank you!

I love what I bought! How do I share it with the world? Post your images in our thread on the Art on the Commons Facebook event page OR tag @playkettering on Facebook, Twitter or Instagram!
Thank you to our 2020 sponsors!
The Joan W. McCoy

Memorial Art Fund
Our video gallery is made possible by the generous assistance of the Miami Valley Communications Council.