Art on the Commons
September 13 - November 20, 2021
In-Person at Rosewood Arts Centre and online
Rosewood Arts Centre is pleased to announce the 33rd annual Art on the Commons Fine Arts Festival, taking place from September 13 – November 20, 2021. This popular event will be presented in a new format, with rotating in-person exhibitions and virtual art experiences. Showcasing the best ceramics, digital art, fiber/leather, glass, jewelry, mixed media, painting, photography, sculpture, works on paper and wood creations from the region, Art on the Commons continues to connect professional artists with the community and present opportunities to support the creative economy.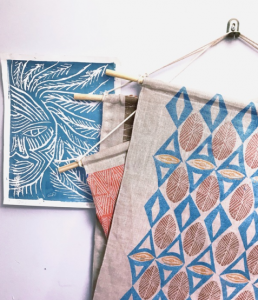 Featured artists include Dan Cleary (Digital Art/Photography), Alison Fawcett (Ceramics/Jewelry), Yetunde Rodriguez (Textile/Printmaking), Loretta Wilkstrom (Mixed Media), Priya Rama (Painting), Jennifer Pottner (Jewelry), Mike and Debbie McGiness (Woodworking), and Sandra Picciano-Brand and David Brand (Metals/Jewelry).
Rosewood Arts Centre will present a program series through the festival website, including artist interviews, studio visits and demonstrations. A full list of exhibitions and programs will be available on the Festival website.
Virtual festival goers can also vote for their favorite artists to help three of them win a $100 People's Choice Award, presented by the Joan W. McCoy Memorial Fund.
A schedule and more event details will be posted here soon!
Want to stay on top of all the Art on the Commons news? Sign up to receive our updates!