Artist Information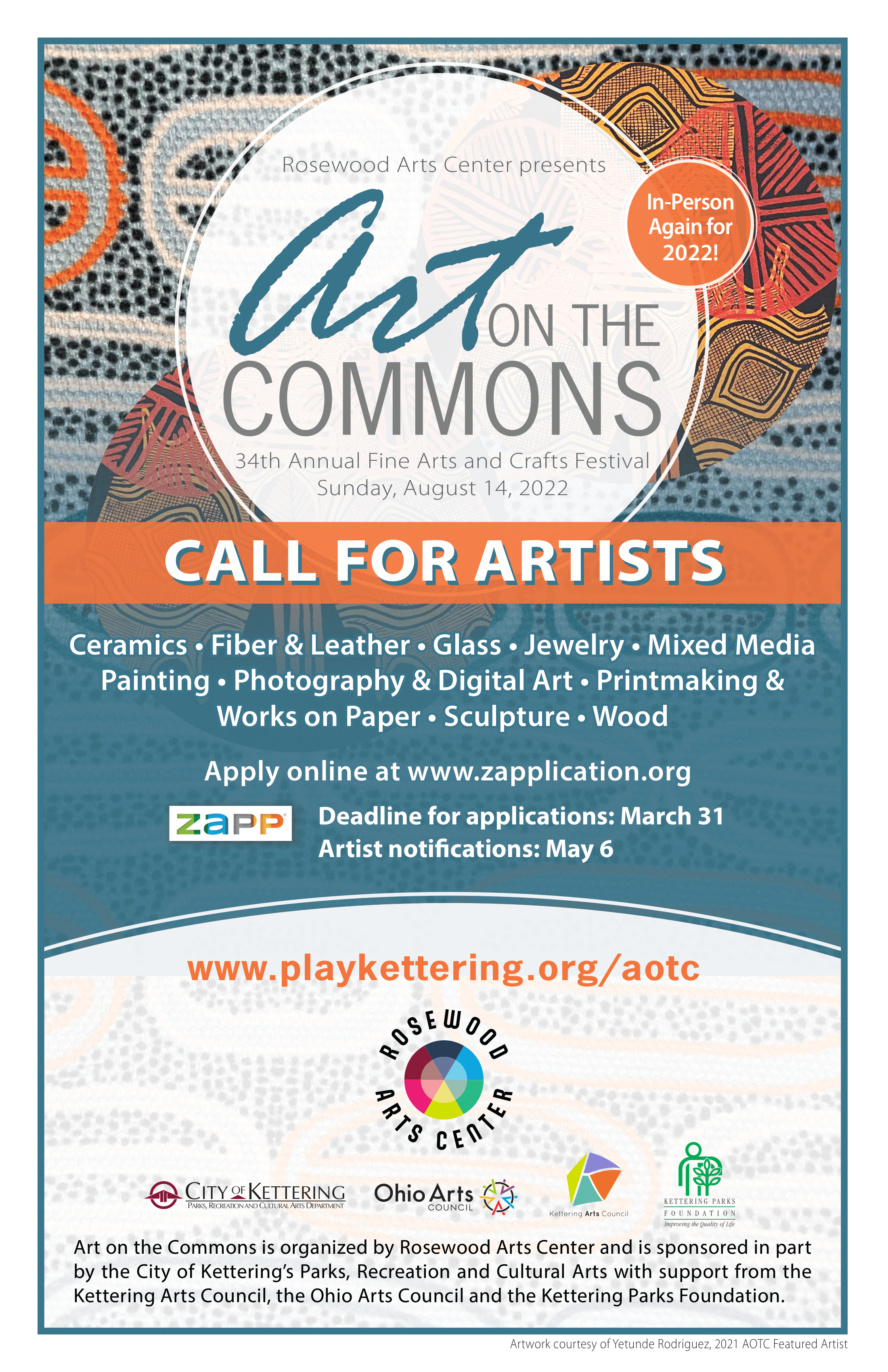 The 34th Annual Art on the Commons Festival in Lincoln Park Civic Commons will take place on Sunday, August 14, 2022. Artist submissions will be accepted via Zapplication from January 1 – March 31, 2022. Updates will be posted here on the festival website.
Art on the Commons fine arts and crafts festival features approximately one hundred artists from around the country. Located in a scenic park within the vibrant Dayton area, the festival's live music and top notch artists make Art on the Commons a destination for several thousand art lovers every year. Art on the Commons is consistently recognized as an outstanding festival by national and regional news publications. Art on the Commons is organized by Rosewood Arts Center, a division of the Parks, Recreation and Cultural Arts department of the City of Kettering.
Important 2022 Dates
Applications open: January 1
Application Deadline: March 31
Jurying: April 2022
Artist Notifications Sent Out: May 6
Accept Invitation Deadline: May 23
Booth Payment Due: May 23
Waitlist/Alternates Contacted: May 23- August 1
Artist Networking Event: August 13
Festival Date: August 14
APPLY JANUARY 1-MARCH 31

Call 937-296-0294 or e-mail aotc@ketteringoh.org with any questions.
Updates will be posted here on the festival website.
Meet our 2022 jurors
Dave Crowell, a Dayton area native, has worked professionally in the Fine Arts field for over three decades.  Dave is the owner and master craftsman of Custom Frame Services Inc. He is certified by the Professional Picture Framing Association, and specializes in fine art handling and presentation. In addition to preservation and presentation of significant works for private and public patrons, Dave has offered workshops and symposia to various organizations in Dayton Fine Arts.
Dave's background is in oil painting, holding a degree in Fine Art Painting. He has also trained in frame restoration at Intermuseum Laboratories as well as through seminars in Nashville, Chicago, and Las Vegas. Dave has expanded his artistic practice to include three-dimensional work and various forms of conceptual art.
Gloria Pugh has served as the Director of Education for the Dayton Philharmonic Orchestra as well as the Dayton Performing Arts Alliance for twenty-five years.   She is a trained music educator, having taught at Princeton City Schools in Cincinnati.
Gloria is a long time appreciator and collector of fine art, advocate for the arts, and art educator in Ohio.  She is a regular patron for Art on the Commons and a member of the Kettering Arts Council.
April Alford-Barclay is Chief Administrator for the Montgomery County Board of Elections, as well as a board member for the African American Visual Arts Guild.
April is extremely active in her community volunteering at many Dayton organizations, and is passionate about supporting local artists.  April is the founder of Welcome Home Dayton, a nonprofit whose mission is to furnish homes for people transitioning from homelessness. April also runs a small business where she sells handmade items, and an interior decorating business that she runs with her wife Shannon.