Artist in Residence Program
Rosewood Arts Center's Artist in Residence (AIR) program allows emerging and professional artists to create work at Rosewood in our specialized studio facilities, exhibit their artwork created during the residency, and engage with the community through scheduled events and while working in our studios.
Artist in Residence Participants
2023-24: Leesa Haapapuro, Printmaking
2020: Nikki Strouss, Ceramics
2019: Arthur Kettner, Ceramics
2023-2024 Artist in Residence: Leesa Haapapuro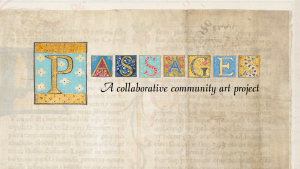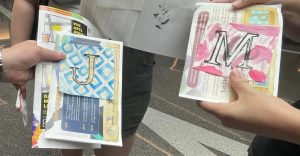 Artist Leesa Haapapuro invites the community to participate in a special interactive artwork. Inspired by the hand-painted and gilded manuscripts of the Middle Ages, Passages is a collaborative approach in illustrating the William Carlos Williams' epic poem Asphodel, That Greeny Flower using techniques and materials found in these early printed books.  The poem, represented in over a hundred pages, or passages, throughout Rosewood, will be an ever evolving visual artwork through the spring of 2024.
Illuminated manuscripts sometimes had the addition of little artworks in their margins by the page's text.   These images did not necessarily illustrate the text, but the use of creative, and at times bizarre, imagery delighted the reader and made each page memorable. Passages is an opportunity for anyone to make their own mark in the margins of this poem.
Directions to participate:
Select your poetry page from the installation at Rosewood Arts Center;
Bring the page to the Rosewood front desk and sign your name to the corresponding page in a special project binder;
Illustrate the page you've chosen by way of the following:
Bring the page to Rosewood open studio hours in the Printmaking Studios (Thursdays from 5 – 8:30 pm; check for the latest update and hours on playkettering.org/rosewood)*
Take the passage home to illustrate with your own materials, but please bring your work in progress back to display often.
* Rosewood has materials for  woodblock printing, watercolor pencils, gouache paints and gold leaf.
Return the work to the installation at Rosewood in the location you found it. A corresponding cling will be installed on the wall making it easy to remember the pages' location.
If you have any questions, please contact the artist through Leesahaapapuro.com or call Rosewood Art Center at (937) 296-0294.
This project made possible by Rosewood Arts Center and an Artist Opportunity Grant from The Montgomery County Arts and Cultural District, administered by Culture Works.
2020 Artist in Residence: Nicki Strouss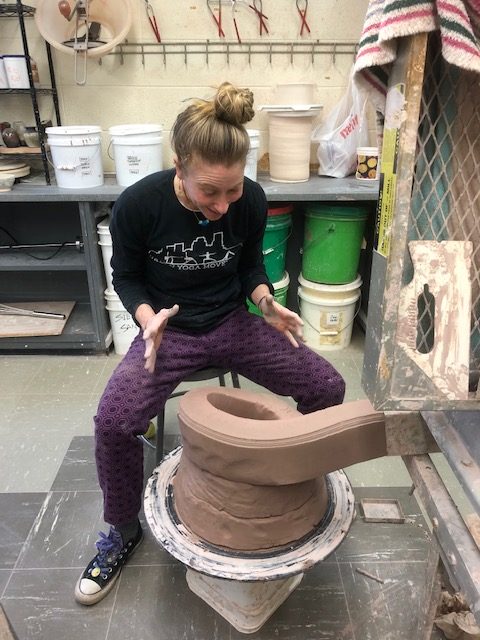 2019 Artist in Residence: Arthur Kettner