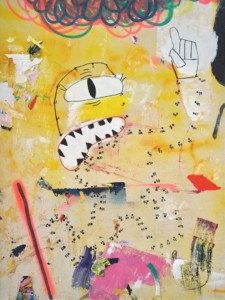 Darren Haper, Cyclops Dot to Dot, 2016, acrylic and enamel on canvas, 40 x 30 in.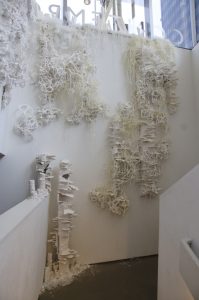 Emily Moores; Ornamental Invasion (installation view); 2014; paper, plaster, wire, cardboard; 30 x 30 x 10 ft.
CURRENT EXHIBITION
Darren Haper, Almost There
April 17 – May 19 , 2017
Painter Darren Haper, who lives and works in Dayton, will exhibit a dynamic series of paintings in an exhibition titled Almost There. "I am interested in that time of life when innocence, freedom of ideas, and inspirations came naturally—a time before one knew what composition, line, texture, or color theory meant," Haper says. "Much of my inspiration comes from watching the free flow of ideas my children express as they create art and wishing I could achieve that again."
Haper, who has exhibited his artwork extensively in the Dayton area as well as in national and international exhibitions, holds a Bachelor of Fine Arts degree in Painting from Miami University. He has given lectures at several of the region's universities and was the recipient of the 2007 MCACD Fellowship. Haper currently serves as Studio Manager at Mike Elsass Studios.
Emily Moores, Cathedral
April 17 – May 19, 2017
 Reception Thursday, April 20, 6-8pm
Cincinnati-based paper artist Emily Moores will show a site-specific installation called Cathedral. Regarding her work, Moores says, "I cut, fold, and roll to transform paper into dense textures or towering structures. By hand cutting each shape, the repetition within the forms is not identical. The slight variation adds a tactile quality to the paper structures." She continues, "I use the limited nature of installation combined with the sensory experience of my ornamental paper constructions to focus attention on the present moment in time."
Moores earned a Master of Fine Arts from the University of Cincinnati's College of Design, Architecture, Art, and Planning (DAAP), and a Bachelor of Fine Arts from the Cleveland Institute of Art. She currently serves as Development Coordinator at Churches Active in Northside, a Cincinnati-area food pantry.