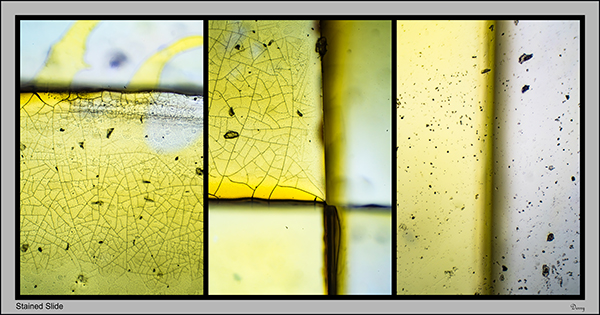 Derry Cox; Stained Slide; 2017; microscopic abstract triptych, digital inkjet print; 9 x 17 in.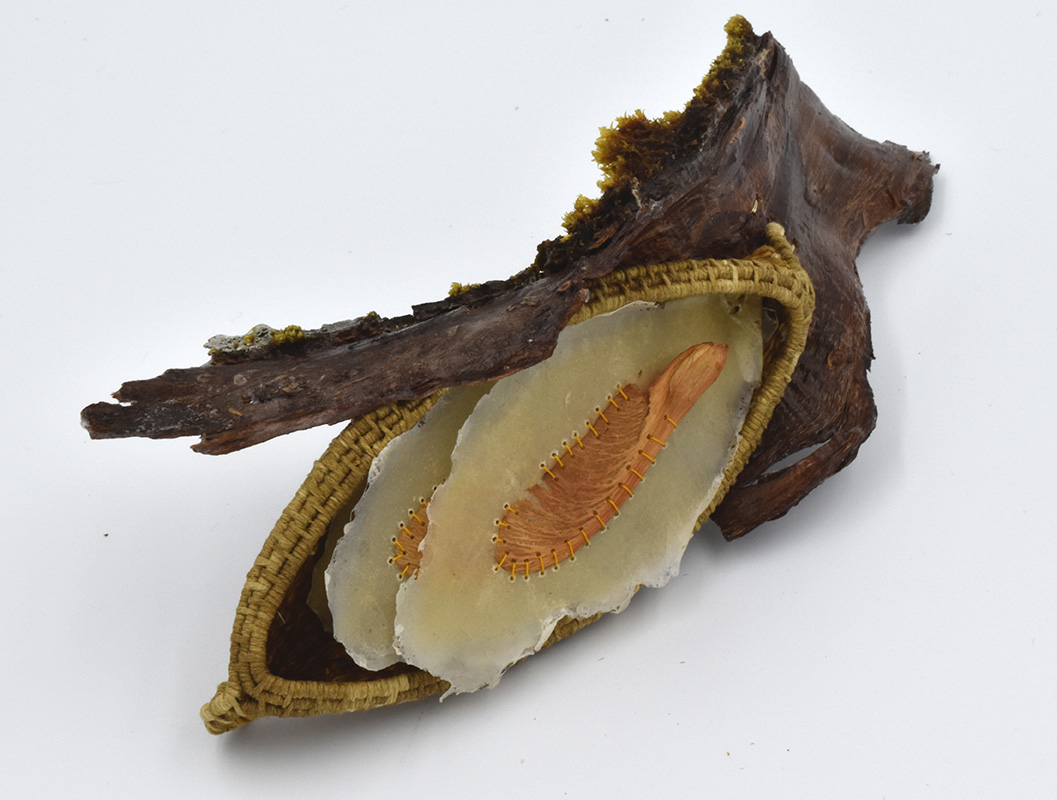 Char Norman; Sheltered Lichen; 2017; linen thread, handmade paper, bark; 14 x 4 x 4 in.
CURRENT EXHIBITION
Rosewood Gallery presents solo exhibitions by Derry Cox and Char Norman
On view: March 5 - April 6, 2018
Opening reception: Thursday, March 8, 6-8pm
Free and open to the public
Centerville-based artist Derry Cox's photographs demonstrate a medium of his own invention: the microscopic abstract triptych. Each image, comprised of three photographs of a single subject, was made using an advanced biological research microscope. "Each triptych set has both a scientific value and an aesthetic value," Cox says of this body of work. "They're simultaneously interesting and pleasant to view."
Cox's work has exhibited at the Centerville Art Gallery and the Southminster Presbyterian Church in Centerville, both in 2016.
Sculptor Char Norman, who lives and works in Columbus, will exhibit a series of mixed media sculptures in an exhibition titled Veneration. Of her work, Norman says, "The idea of Nature as an object of veneration and worship is as old as man. Tied into the worship of nature is the idea of the inter-connectedness of all things with none dominant over the other. As our society and world are facing an environmental crisis which may even lead to our demise it is more important than ever to understand this symbiotic relationship and embrace eco-psychology I present nature in sacred spaces and attitudes to bring understanding and importance to the issues at hand."
Norman earned a Master of Fine Art degree from Claremont Graduate University and a Bachelor of Art degree from Scripps College. She has lectured and exhibited extensively both nationally and internationally, has developed and conducted workshops for all ages, worked as a consultant to area schools and community arts organizations, and held the positions of Associate Provost and Dean of Faculty at Columbus College of Art & Design. She currently works as a full time professional artist.