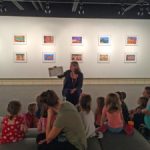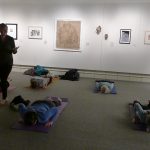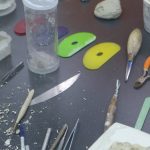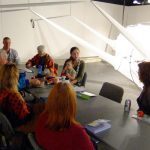 Partner Programs with Dayton Metro Libraries 
ART START PRESCHOOL STORYTIME
3rd Monday monthly at 11:30am*
Foster an early love of art with storytime at Rosewood Gallery! Parents and children ages three through six are invited to enjoy one to four stories followed by a hands-on craft led by a Rosewood instructor. Free and open to the public!
ROSEWOOD GALLERY BOOK CLUB
Join Rosewood Gallery and Dayton Metro Libraries in a lively discussion about a current book featuring art and/or artists as central elements. Enjoy light refreshments and the company of fellow art and book lovers at our quarterly events. Free and open to the public, ages 16+. Books are made available for checkout at the Dayton Metro Library's Kettering-Moraine branch.
Date: Monday, April 16, 6:30pm
Topic: The Improbability of Love, Hannah Rothschild
"Annie McDee, thirty-one, lives in a shabby London flat, works as a chef, and is struggling to get by. Reeling from a sudden breakup, she's taken on an unsuitable new lover and finds herself rummaging through a secondhand shop to buy him a birthday gift. A dusty, anonymous old painting catches her eye. After spending her meager savings on the artwork, Annie prepares an exquisite birthday dinner for two—only to be stood up.
The painting becomes hers, and Annie begins to suspect that it may be more valuable than she'd thought. Soon she finds herself pursued by parties who would do anything to possess her picture: an exiled Russian oligarch, an avaricious sheikha, an unscrupulous art dealer. In her search for the painting's identity, Annie will unwittingly discover some of the darkest secrets of European history—and the possibility of falling in love again." This book was a finalist for the Baileys Women's Prize.
Regular Programs
ART LUNCH
2nd and 4th Thursdays each month
Noon - 1pm
Join fellow artists and art lovers for a casual lunch get together. Share current projects, collected works or art stories. Bring a lunch and your love of art! FREE!
YOGA IN THE GALLERY
Winter/Spring 2018: January 19 - May 18*
Noon - 1pm
Join us at Rosewood Gallery for an open level yoga class. This class is of a gentler nature, with the breath being the center of the practice. Class is open to all levels of yoga practitioners. Please bring personal props.
Fee: $5 resident; $10 non-resident
Instructor: Robyn Moore, RYT 200
*No class March 2, April 6 or April 13