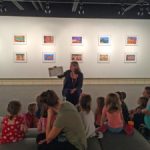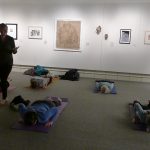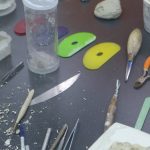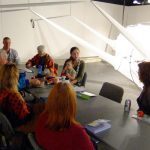 Partner Programs with Dayton Metro Libraries 
ART START PRESCHOOL STORYTIME
Dec. 17, Jan. 14, Feb. 11, March 18, April 22, May 20 and June 24 at 11:30am.
Foster an early love of art with storytime at Rosewood Gallery! Parents and children ages three through six are invited to enjoy one to four stories followed by a hands-on craft led by a Rosewood instructor. Free and open to the public! *Holidays may alter storytime dates.
ROSEWOOD GALLERY BOOK CLUB
Join Rosewood Gallery and Dayton Metro Libraries in a lively discussion about a current book featuring art and/or artists as central elements. Enjoy light refreshments and the company of fellow art and book lovers at our quarterly events. Free and open to the public, ages 16+. Books are made available for checkout at the Dayton Metro Library's Kettering-Moraine branch.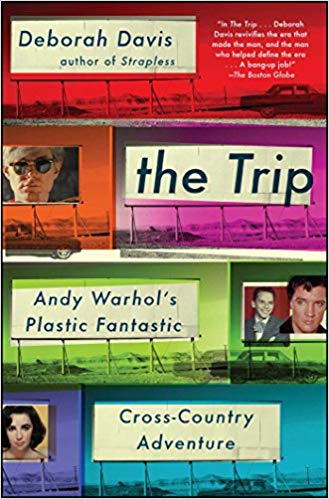 Monday, January 28, 6:30 pm
The Trip: Andy Warhol's Plastic Fantastic Cross-Country Adventure by Deborah Davis
In 1963, up-and-coming artist Andy Warhol, along with a colorful group of friends, drove across America. What began as a madcap, drug-fueled romp became a journey that took Warhol on a kaleidoscopic adventure from New York City, across the vast American heartland, all the way to Hollywood, and back.
With locations ranging from a Texas panhandle truck stop to a Beverly Hills mansion, from the beaches of Santa Monica to a photo booth in Albuquerque, The Trip captures how Warhol intersected with Dennis Hopper, Peter Fonda, Marcel Duchamp, Elizabeth Taylor, Elvis Presley, Frank Sinatra, and other bold-faced names of the time. Along the way, Warhol also met rednecks, beach bums, underground filmmakers, artists, poets, socialites, and newly minted hippies—all of them leaving an indelible mark on his psyche.
In The Trip, Andy Warhol's speeding Ford Falcon is our time machine, transporting us from the last vestiges of the sleepy Eisenhower epoch to the true beginning of the explosive, exciting sixties. Through in-depth, original research, Deborah Davis sheds new light on one of the most enduring figures in the art world and captures a fascinating moment in 1960s America—with Warhol at its center.
Regular Programs
ART LUNCH
2nd and 4th Thursdays each month
Noon - 1pm
Join fellow artists and art lovers for a casual lunch get together. Share current projects, collected works or art stories. Bring a lunch and your love of art! FREE!
YOGA IN THE GALLERY
Winter:  December 7 –May 31
Noon - 1pm
Join us at Rosewood Gallery for an open level yoga class. This class is of a gentler nature, with the breath being the center of the practice. Class is open to all levels of yoga practitioners. Please bring personal props.
Fee: $5 resident; $10 non-resident
Instructor: Robyn Moore, RYT 200
*No class Dec. 21, Jan. 11, March 1, April 12, and May 24.