Partner Programs with Dayton Metro Library
GALLERY BOOK CLUB 
Join us as we partner with Dayton Metro Library for a lively discussion about a current book featuring art and/or artists as central elements. Enjoy light refreshments and the company of fellow art and book lovers at our quarterly events. Free and open to the public, ages 16+. Books are made available for checkout at the Dayton Metro Library's Kettering Wilmington-Stroop branch.
Free and open to the public, ages 16+
Next Meeting: Monday,  January 22, 6:30 p.m.
All the Beauty in the World :  A Museum Guard's Adventures in Life, Loss and Art by Patrick Bringley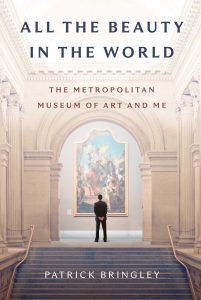 "Millions of people climb the grand marble staircase into New York's Metropolitan Museum of Art every year. Patrick Bringley never thought he'd be one of them. But when his brother was diagnosed with fatal cancer he quit his journalism job, and sought peace in the most beautiful place he knew.
To his surprise, this temporary refuge becomes his home away from home for a decade. Bringley enters the museum as a ghost, silent and almost invisible, but soon finds his voice and place among the lively subculture of museum guards. As his bonds with colleagues and the art grow, he learns how fortunate he is to be walled off in this little world and how much it resembles the best aspects of the larger world to which he gradually, gratefully returns."
ART START PRESCHOOL STORYTIME
2nd Thursday of each month, 11:30 a.m. - 12:15 p.m.
Foster an early love of art with Storytime at Rosewood Gallery! Parents and children ages three through six are invited to enjoy one to four stories followed by a hands-on craft led by a Rosewood instructor. Free and open to the public!
Regular Programs
ART LUNCH  - FREE!
2nd and 4th Thursday each month
Noon - 1 p.m.
Join fellow artists and art lovers for a casual lunch get together. Share current projects, collected works or art stories. Bring a lunch and your love of art!