Partner Programs with Dayton Metro Library
ROSEWOOD GALLERY BOOK CLUB 
Join Rosewood Gallery and Dayton Metro Library in a lively discussion about a current book featuring art and/or artists as central elements. Enjoy light refreshments and the company of fellow art and book lovers at our quarterly events. Free and open to the public, ages 16+. Books are made available for checkout at the Dayton Metro Library's Kettering Wilmington-Stroop branch.
Next meeting: Monday, January 23, 6:30 p.m.
Free and open to the public, ages 16+
Our January book pick is by a local author!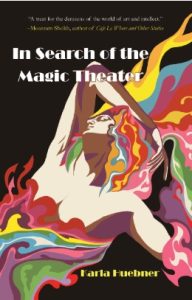 In Search of the Magic Theater
by Karla Huebner
"Why, the rather staid young cellist Sarah wonders, should her aunt rent their spare room to the perhaps unstable Kari Zilke? Like the nephew in Hermann Hesse's Steppenwolf, Sarah finds herself taking an unexpected interest in the lodger, but she is unable to stop at providing a mere introduction to Kari's narrative of mid-life crisis and self-discovery, and develops her own more troubled tale of personal angst and growth, entwined with the account Kari herself purportedly left behind. Generational tensions, artistic collaborations, and even a romance steeped in Greek myth follow as Kari and Sarah pursue their very different creative paths in theater and music. And while Kari seems to blossom post-divorce, Sarah must grapple with the question of what the role of mothers, fathers, aunts, mentors, and male collaborators should be in her life as a young musician."
ART START PRESCHOOL STORYTIME*
2nd Thursday of each month, 11:30 a.m. - 12:15 p.m.
Foster an early love of art with Storytime at Rosewood Gallery! Parents and children ages three through six are invited to enjoy one to four stories followed by a hands-on craft led by a Rosewood instructor. Free and open to the public!
Regular Programs
ART LUNCH  - FREE!
2nd and 4th Thursday each month
Noon - 1 p.m.
Join fellow artists and art lovers for a casual lunch get together. Share current projects, collected works or art stories. Bring a lunch and your love of art!
YOGA IN THE GALLERY
Fridays, October 7 – February 24 (will not meet on Nov. 25 and Dec. 23)
Noon – 1 p.m.
Join us at Rosewood Gallery for an open level yoga class of a gentler nature. Class is open to all levels of yoga practitioners. Please bring a mat, towel and water bottle.
Fee: $5 Kettering resident; $10 non-resident
Instructor: Jessica Roller, Certified NESTA Group Exercise and Yoga Instructor